I've managed to connect via email several people, most of whom I've not met. I have connected directly with many like-minded people using myriad outlets, including online fora, email, telephone, and live-and-in-person. The latter has proved most gratifying, particularly including the few hundred visitors to the mud hut. Online opportunities have been largely disappointing to me, in part because so many people believe online contacts are their friends. Whereas it is useful to connect with others through various means, let's not confuse online interactions involving people who use pseudonyms in superficial discussions with human interactions leading to friendship in community. Examples of the latter phenomenon are legion, as you might expect in Facebook Nation, especially in online fora where people use clever monikers: Here's a recent exercise in navel-gazing under the auspices of developing friendships in community.
Various fora are useful starting points for those interested in meeting like-minded people. These include, for example, the Classified Ads sections of fora such as Silent Country, Sustainable Country, Hubbert's Arms, and The Oil Age. Michael Ruppert's Collapse Network has a directory of lifeboats, and the occasional blogger understands the nature of our predicament and sends out a lifeline (here's an example from Gregg Brazel, who wrote a guest essay for this site in late March of this year). Nonetheless, there remains much more to be done in the name of bringing like-minded people together for discussions of our future.
Consider various models on topics much less important than environmental and economic collapse. These include websites dedicated to Seniors Homing Together, Couch Surfing, farming/gardening, and house-swapping while on sabbatical leave. Dozens of other sites doubtless exist beyond my knowledge and interest. These sites serve valuable functions and some combination of them could be developed as a one-stop shop for doomer-oriented classified ads.
Sub-topics are limited only by our imaginations. Bartering for goods and services knows no bounds. From sharing land to sharing intimate futures, somebody should develop the one-stop shop before it's too late. After all, times are changing. Rapidly.
How rapidly? It would be nice to know for sure.
I suspected it was game over, within a matter of weeks or months, when the per-barrel price of oil hit $126 in late April. After all, $120 oil brings American Empire to a close, as I pointed out about 18 months ago, and subsequently supported a few months ago). Michael Ruppert predicts lights out by July, which would be two months after the price spike. Ruppert's prediction, which is viewed throughout the blogosphere as pure insanity, is completely plausible, and is consistent with events of July 2008 ($147.27 oil) and September 2008 (when all the banks in the country came within an eyelash of failing, back before the Federal Reserve Bank became powerless). Paradoxically at this point, higher oil prices indicate continuation of the industrial economy, whereas lower prices put us on track for 2008 all over again (albeit more catastrophic from the perspective of the industrial economy).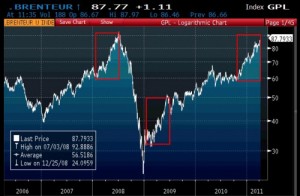 Of course, the price of oil could rise to the $200/bbl and then the $300/bbl forecast by Chris Martenson. If it does, we'll need to bring back the Pony Express to spread the news across a nation without an electrical grid. Actually, the impending ongoing collapse of the U.S. Postal Service indicates we're close to that point already.
As we all know, completion of the ongoing collapse can happen rapidly. I'm not saying it will happen by July: I'm still sticking with my four-year-old forecast of light's out by the end of 2012, which is looking ludicrously conservative. But it certainly could happen by July, and I wouldn't bet against it even as I wish for it. In any event, I've been pondering what I would do with an extra few days, weeks, months, or even years.
With an extra couple days, I would call the people I love to wish them goodbye, and I would spend a little extra time in the garden gazing into the adjacent wilderness. On the other hand, with an extra couple days we would drive an additional few hundred species to extinction while bringing nearly half-a-million people into a world they didn't choose to enter.
What would you do with an extra couple days?
With an extra couple weeks, I would complete a long-planned gathering with my parents and siblings in the northern Idaho campground where we spent a week or two each summer during my youth. On the other hand, with an extra couple weeks we would drive about 3,000 extra species into the abyss of extinction while bringing nearly 3 million people to the planet just in time to suffer and die young.
What would you do with an extra couple weeks?
With an extra couple months, I would construct a solar ice-maker at the mud hut and then write about it and the biochar kiln we recently added (the obvious title of that essay: Fire and Ice). Then we would retain the ability, after the deep-chest freezer follows the electrical grid over the cliff, to cool food (and us). After all, the typical lifetime of an American appliance is seven years, suggesting ours is already in middle age. Can you imagine our prospects for bartering if we have ice in the summer, in the desert? As a society, we could seriously ratchet up the madness with an extra couple months. In that seemingly short time, we would murder an extra 12,000 or so species and bring an additional 12 million or so people into a planet on the brink.
What would you do with an extra couple months?
With an extra couple years, the orchard will be bearing fruit and we might know something about building soil. My tenth book would be published and I would be able to help a few willing people in minor ways. But, at least for me, the psychological and emotional costs are so great I cannot think about an additional two years of planetary madness. The diminishing hope for the future of Homo sapiens on an overwrought, overshot, overheated planet is too much to bear. Despite all the signs and all the evidence, this disaster we call society continues to set records for carbon emissions.
But back to the notion of connections, assuming it's not too late. This blog has very limited readership (though I don't know how limited, because I don't track statistics). Nonetheless, in the spirit of taking a tentative step in the direction I'm proposing — and hoping an organization with a mission, staff, and credibility steps up — I've added a classified ads page (see tab at the top of this page). Send me your ad, and I'll post it there. At any time, let me know if you'd like to revise or remove it. Use me for contact information, if you'd like, so I can serve as a human spam filter.
There are a couple caveats: If the number or content of ads sent my way exceed my ability to effectively deal with them, I'll pull the plug. Please don't abuse my time. And, as always, I'm treating this activity as a work in progress, subject to your input and my blowing-in-the-wind whims. Thus, as always, I welcome your thoughts about this pursuit. Have I crossed the line from ridiculous to sublime? Is it true that I've lost my ability to reason? You've not held back before, so I assume you'll respond honestly in this space or via email.
Two examples follow, and they're real. I've already posted them to my Facebook page and one of the fora mentioned above. Apparently they've met with a fair amount of success already.
We are located in the beautiful Pacific Northwest, about halfway between Eugene and Corvallis, Oregon, in the foothills. The commute to Eugene is 30 minutes and to Corvallis about 40.

Looking for others who would like to split the costs of all living expenses, including rent and utilities, sharing resources and helping to develop a way to generate income that will benefit everyone involved. Joint ownership also will be considered.

Ideal partners will be good communicators who are enthusiastic and creative (i.e., they have the passion to create). Motivated couples, young families and/or individuals who share our concerns about climate change, resource depletion and surviving together through collapse of the current system, as we know it. We have enough space where all can live together harmoniously with separate living quarters determined by consensus of all concerned. There are a variety of options available. Kitchen and laundry facilities will be shared.

In considering our homestead, we appreciate others who enjoy actively working/stewarding the land. Ideally, we want to work together with our homesteading partners to find better ways to utilize the land we are tending: (water conservation, intensive sustainable planting, composting and organic planting) along with other mutually beneficial plans for farming. Using all of our talents/ideas and experiences to grow one or several businesses together would be a plus along with the desire to continue the arrangement for an extended period of time.

Our property is five acres, all usable with a gently sloped southern exposure and 55, 4×26′ raised beds and approximately 250′ of berries. We also have a young orchard of apple and pear trees. A creek runs along the bottom of our property (not on it) and a large tract of heavily wooded land lies beyond it (120+ acres).

Other resources:
10×15′ greenhouse
Diesel tractor with attachments, though our garden is tended by hand with no power equipment, has been "no till" for the last five years.
Free range chickens
Barn (with second-floor space) that has electric and water (needs work).
Woodworking equipment for repairs and a possible small business
Our home also has a flex-area for that can be used for classroom space, yoga or bodywork, massage therapy, an art studio (or other venture).

Additional interests include growing and processing food (canning, drying, etc). We would like our partners to share and collaborate with the garden, food preservation, and marketing the farmstead

We have considered workshops targeting sustainable practices, setting up a network with the community for bartering or bulk food purchasing and would also like to incorporate animal husbandry, mechanical, sewing, carpentry and renewable energy skills.

If interested, please contact us with more specifics about long-term plans, interests, and abilities as well as any financial or other resources you have to share. Please contact Guy McPherson via email if you are interested, and he will forward legitimate requests to us (grm@ag.arizona.edu).
____________________
Greetings fellow Doomers:

I'm pleased to be a part of this movement and glad for the collapse of the prevailing planet-destroying order. Future generations will undoubtedly look back at the late-industrial era and scratch their heads in total disbelief. So, on to the future …

I've been studying and practicing organic agriculture for three years: experimenting with an urban garden in Chicago, wwoofing at two small farms in Michigan, and also helping out at Strawbale Studio (http://strawbalestudio.org/). I am well-versed and skilled in sustainable design & construction, with 20+ years of experience in engineering, architecture, design and planning. In addition to concerns about health, ecology, and the food chain, my love of cooking inspires me to cultivate fresh veggies, herbs and berries near my kitchen, to share with all.

I am passionately interested in the re-localization of economies … agriculture, building, energy, manufacturing, textiles, medicine, journalism, and the arts … authentic creativity and craftsmanship that come only from a Zen-merging of mind, body and soul. The People need to preserve and safeguard these knowledge bases and critical skills. We must take such matters back into our own hands as some industries are too important to be left to the profit motive that extracts true wealth (natural capital, clean environment, labor hours, genuine relationships) from the local economy. Rebuilding culture and communities from the ground up will be the next primary concern and enterprise of humanity. I am seeking to work with like-minded people to recreate human-scaled economies and humane modes of existence on this gorgeous, finite planet that is our source of all sustenance.

My highest skills are in design+build … shelters, garden structures, furniture. So if you need affordable housing or a solar shower, a passive solar addition, chicken tractor … I am especially interested in helping in this regard. I've owned and run a small design/build company for 15 years and have strong business skills … web and graphic design, databases, marketing, cost estimating, project management. I gladly offer help in these areas if it would benefit your community.

Please drop by my website at www.ehrlum.com to view samples of my craft, and see my resume at http://ehrlum.com/gabportfolio/resume.pdf for complete info on my education and skills.

I am single, no children, pets, mortgage or leases. I am highly mobile and motivated, and I look forward to hearing from you.

Best regards,
Gregg Brazel
gregg@ehrlum.com
_____________
This essay is permalinked at Island Breath.