My latest essay for The Good Men Project was published Tuesday, 30 April 2013. "Climate is a social justice issue" is linked here.
I was interviewed very briefly by Ted Simons on Arizona Horizon on Thursday, 2 May 2013. The interview is embedded below.
Watch Education Issues & Living off the Grid & Artist Lelija Roy on PBS. See more from Arizona Horizon.
I was interviewed by Adam Engel for Dissident Voice. The result is posted here.
The premiere showing of Mike Sosebee's film, Somewhere in New Mexico before the End of Time, is scheduled for 7:00 p.m. on Saturday, 4 May 2013 on the campus of the University of Arizona. Description in the Tucson Citizen is here. Please spread the word about this event, and invite your friends via Facebook here.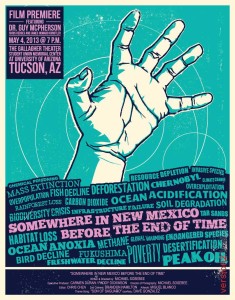 Sosebee's film will be shown at 6:30 p.m. on Monday, 6 May 2013 in the Unitarian Universalist Church in Silver City, New Mexico (description in the Grant County Beat is here).
_______________
The two-posts-per-day rule is reinstated for this essay and all future essays in this space.