I was interviewed for the Doomstead Diner Friday, 16 June. Registration to the Diner is free, and the resulting podcasts are embedded at the two links below:
Plague! (permalinked at the The Burning Platform, Survival Place Blog, and The Daily Sheeple)
Podcast Page (near the bottom of this page, and titled "Guy McPherson: Life History and Philosophy")
On Wednesday, 26 June, KMO interviewed Jay Smith for the C-Realm podcast. Based on his participation at the Age of Limits conference, Jay brought up my name as a topic. KMO ran with it. Catch it all here, starting at the five-minute mark and running to the halfway point of the podcast. Disparagement begins anew about 37 minutes in.
________________
Support the west-coast Reality Tour: Filmmaker Mike Sosebee and I will be responding to Q&A after showing Somewhere in New Mexico before the End of Time at various venues between Fresno and Seattle, 15-29 August 2013. If you have a venue, send Mike an email message at sosebeeTV@cox.net. Purchase your own DVD of the film here.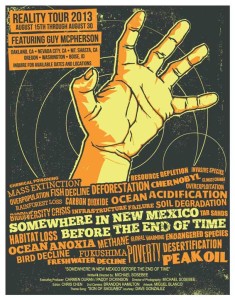 ________________
Please join me in supporting Blazing Kat Productions, the sights and sounds of Occupy. Post your secure donation here.
________________
I've posted a new Classified Ad, and pasted it below. Track all the ads here.
At 4,600 feet above sea level in rural, southwestern New Mexico you'll find 2.73 private acres and a 1,400-square-foot trailer home. Latter has large, south-facing, stick-and-stucco addition with skylights, lots of light, and solar gain. Good well and water quality and 1/8-acre water right. Two sheds and one converted school bus with kitchen addition and electric and running water. Gorgeous 180-degree view, end of the road, bordered by public land on two sides, ramadas, shade trees, and gardens. $140,000, no owner financing. Contact gilaarlan@gmail.com.