My family had a dog when I was growing up. Shorty arrived when I was in elementary school, though I don't remember exactly when. A short, homely terrier of dubious heritage, she was an excellent, adventurous traveler. She loved camping and was truly a part of the family until she died during my college years.
My wife and I held out for a long time before we felt sufficiently mature and financially stable to have a pet of our own. Shortly after we moved into our first non-rental home — and so far, only one of two we've owned — we adopted a recently weaned puppy from the Humane Society in Tucson. Ever the rationalist, I insisted upon several criteria before we viewed the available dogs: female, puppy, short hair, light color, about 50 pounds fully grown.
When my wife walked into the room with available dogs, she settled on the first animal that entered her view. I consider myself lucky she didn't first see a hippopotamus, although we did adopt a black, Doberman-German Shepherd mix that achieved nearly 100 pounds in weight.
Mancha (Spanish for "Spot") quickly became our constant companion. She walked us twice daily in the Sonoran Desert near our small, suburban home. She took us hiking and camping and, like my childhood dog, became very much a part of me.
Mancha was diagnosed with bone cancer at about a year of age, and she died shortly after her second birthday. We approved chemotherapy and radiation therapy, and we held on too long. When Mancha died, she nearly took me with her. If I'd have had a handgun at my disposal, I would've used it on myself. The grief was horrible, and thinking about Mancha still brought tears to my eyes many years later. As in, today, more than twenty years after her death.
We waited a long time before considering another pet. My wife was devastated, too, and didn't want a second dog so soon. But I dragged her to the Humane Society five years after our initial visit.
This time, my wife stayed in the car. A friend went inside with me, and the criteria remained largely the same. We were willing to take an adult, but we desired a female, short-haired, light-colored companion that weighed about 50 pounds fully grown. After checking every dog at the Humane Society, we ventured to the county animal facility (the "pound"). And then we went back to the Humane Society. Fortunately, the dog I spied on the first trip was still there an hour later.
My friend and I took the female, short-haired, brindle-and-white dog outside to meet my wife, knowing she would approve. And, seeing four legs and fur, she did. We were informed the unnamed dog was between six months and two years of age, so we arbitrarily decided that day, 21 June 1997, was adoption day and her first birthday.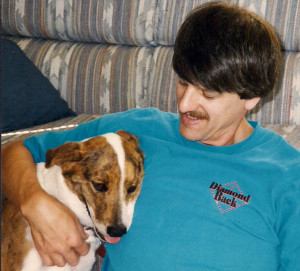 Whereas Mancha was named with local heritage in mind, Savanna received her name from my primary study system. I was a field ecologist working primarily on southwestern oak savannas, and Savanna spent her early years as my constant field companion. She took us on twice-daily walks in our Sonoran Desert home, and ventured into the field with me constantly. She was an ideal adventurer, accompanying us to the Washington, D.C. metropolitan area for a leave of absence as I helped establish the world's premiere postdoctoral program, and then to the campus of Grinnell College (Iowa) for a short teaching stint, and finally to The Nature Conservancy property where I took my final sabbatical leave from the University of Arizona. Myriad side-trips included familial visits, vacations, and field trips of every imaginable variety.
Savanna was a natural-born hunter. She accumulated 14 vertebrate species on her life kill list, including a skunk (pure persistence), two species of cottontail rabbit (pure speed), three species of lizard (pure quickness), and a quail — in flight, on a nature preserve (pure embarrassment, for me).
Savanna was a warrior, and she was also a witness. She saw my transition from earnest ecologist to cynical social critic. She was present for the end of the age of expansion and the beginning of the age of contraction. She traveled thousands of miles and enriched the lives of hundreds of humans and other animals (although admittedly not those many individuals whose lives she terminated).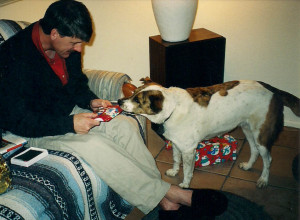 At the age of ten years, Savanna's knees went south. She'd already had minor surgery on one wrist. And, thanks to a collision with a cactus spine while chasing prey, she came within a hundredth of an inch of losing the vitreous humor from one eye, according to the astonished eye specialist. But knee surgery is serious business. We opted for tibial plateau leveling osteotomy (TPLO), an incredibly invasive and disruptive process with an excellent record of full recovery. Savanna's recovery was rapidly complete seven full years ago.
On Thanksgiving Day 2012, Savanna suffered numerous puncture wounds under her chin, though we did not see them that day. The following morning, 23 November 2012, her head and neck suddenly swelled. A lot. The emergency veterinarian barely glanced at her, concluded a venomous snake was the likely culprit, and sent us along our way. The serious bleeding from the puncture wounds beneath Savanna's chin began three days later, by which time Savanna had been transported to a reliable veterinarian in Tucson. I knew these were her final days.
I was mistaken, fortunately, reminding me of one of my undesirable traits: frequently in error, but never in doubt. The puncture wounds did not result from a snake, though the source was never identified. Against all odds, Savanna recovered and carried on for another seven months. As my wife and I were caught between flights in an airport yesterday, we received the news: The friend that helped me select Savanna sixteen years ago came home to check on the dog we left in her care. The Best Dog Ever died in her sleep 19 June 2013, two days short of her seventeenth birthday.
When we received the news in the airport, we tried to arrange an immediate trip back home. Alas, we were too late for the last flight back to Tucson. We'll spend time with the living and will return home to the body of our best friend early next week after celebrating a family wedding.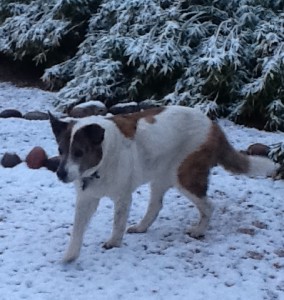 All in all, Savanna experienced the Gonzo life described by Hunter S. Thompson: "Life should not be a journey to the grave with the intention of arriving safely in a pretty and well preserved body, but rather to skid in broadside in a cloud of smoke, thoroughly used up, totally worn out, and loudly proclaiming 'Wow! What a Ride!'" We should all be so lucky. Although our lives have been forever enriched by Savanna Louise Rose O'Malley McPherson, good luck isn't on my mind today.