Off the keyboard of RE
Follow us on Twitter @doomstead666
Friend us on Facebook
Published on the Doomstead Diner on December 22, 2013
Discuss this article at the Doomsteading Table inside the Diner
A while back when we got going with our Podcasts, one of our first Guests to discuss the oncoming DOOM was Guy McPherson of Nature Bats Last. In the Taxonomy of Doom Scenarios, Guy fits under the rubric of what I call "Uber Doom". Guy projects a high likelihood if not certainty of Near Term Human Extinction inside the next Century. I myself fit under the rubric of "Full Doom", which projects out a pretty massive knockdown of human population, but not necessarily an Extinction Level Event for this species. The conversations we had with Guy were entertaining and informative, I'll include them here for folks who have not listened to them as of yet.
The relationship the Diner has with NBL sorta simmered on the Back Burner until recently, when Guy published a couple of my articles on NBL. As a result of that, I found out about technical problems Guy was having with NBL, and offered our help in resolving them, under the theory Doomers should stick together even if they don't have precisely the same spin on the end game here. Result here is that as of today, there is a New NBL on a New Server, and we hope it works real well for the Uber Doomers on that site.
In publishing my spin on NBL though, in commentary I have already been subject to quite a bit of derision regarding my philosophy and how I am approaching the oncoming problems we face. As opposed to most websites where my views are considered extreme and TOO DOOMERISH, on NBL I am not Doomerish ENOUGH! Rather than answer each and every individual comment that has been made inferring that I am unrealistic, in denial, not conversant with all the issues etc, I thought a better idea would be to write an article looking at the different Attitudes that are extant among people who are aware of the issues we face here. In so doing, I hope to clarify this, and eliminate or at least reduce the number of comments my articles on NBL elicit which are so far off the mark it isn't funny. Assumptions being made by many of the commenters are entirely wrong, made only because they have their own ideas and spin and have not looked at all at how we approach these issues on the Diner, and now on SUN
as well. So let me now elucidate the problem as I see it overall.
Once you grasp hold of the many problems we face coming down the pipe here, not the least among them being a Non-Zero likelihood of Near Term Human Extinction, there are a few way you can react to this:
1-Party Like it's 1999.
Party like it is the End of the World, well, because it IS the End of the World! Nothing can be done about in anyhow, so go out in Style. Of course, if the world does NOT end on your timeline and you spend all your money partying it up BEFORE TEOTW comes, the succeeding years will be more difficult than they otherwise might have been.
2-Starship Hale-Bopp
Queue up for the next Comet passing reasonably near Earth and attempt to Hitch a Ride on the Starship trailing it. Since we don't have enough decent Spaceships available at a reasonable Ticket Price to make Earth Orbit, you will need to divest yourself of your Corporeal Baggage and try to Thumb them down in Spirit form as they blow by here. This of course was the Heaven's Gate meme, and who knows maybe it worked?
Heaven's Gate was an American UFO religion doomsday cult based in San Diego, California, founded in the early 1970s and led by Marshall Applewhite (1931–1997) and Bonnie Nettles (1927–1985).[1] On March 26, 1997, police discovered the bodies of 39 members of the group who had committed mass suicide[2] in order to reach what they believed was an alien space craft following the Comet Hale–Bopp, which was then at its brightest.[3]
3- Bemoan it on the Internet
Relieve your frustrations through Daily Posting on a variety of Blogs and Forums dedicated to TEOTW ideas. Complain about the sad state of Homo Sapiens, greed and stupidity while you while away the days, weeks, months or years it takes until the Internet Goes Dark. We do our share of this on the Diner, so I can't say this is without value. It has a cathartic effect to do some venting on this issue. However, you can overdo a good thing here, and miring yourself in dismal thinking is not real productive overall.
4- BAU Denial
Look at every Fact & Factoid available, and construct a rationale for why it won't actually happen, then just go on living your normal life convinced you have resolved this issue and the Doomers obsessed with it are Fruit Loops or Cuckoo for Cocoa Puffs.
5- Take on the CHALLENGE!
Figure if TEOTW is a possibility, challenge yourself to see just how long you can actually keep going! Why be the First to Die here rather than the Last?
I am in the Door #5 Camp, despite the fact in the original Let's Make a Deal, Monte only had 3 Doors available.
Why pick Door #5?
Well, first and foremost, there is no Absolute Guarantee that we will get complete wipeout. When Toba went Ballistic, 10K Human Souls made it through that one. Second, for the AGW crowd, there is no absolute proof you get runaway warming that does not reverse even with CO2 levels at 1000 ppm, and right now we are only at around 400.
First of all, how much does atmospheric CO2 rise if you add 3000 GtC to the system in a (geologically) short period of time? Zeebe et al. did this calculation and the answer is about 700 ppmv – quite a lot eh? However, that is a perturbation to the Paleocene carbon cycle – which they assume has a base CO2 level of 1000 ppm, and so you only get a 70% increase – i.e. not even a doubling of CO2. And since the forcing that goes along with an increase in CO2 is logarithmic, it is the percent change in CO2 that matters rather than the absolute increase. The radiative forcing associated with that is about 2.6 W/m2. Unfortunately, we don't (yet) have very good estimates of background CO2 levels in Paleocene. The proxies we do have suggest significantly higher values than today, but they aren't precise. Levels could have been less than 1000 ppm, or even significantly more.
During the PETM, temps on Earth rose significantly higher than today, and CO2 also despite no Industrialization we know of. Nevertheless, the Earth was able to recover and all life was not extinguished. So there is also a Non-Zero possibility that this time again the Earth recovers; if this is the case all you as HS has to do is figure out means to make it through a few tough millenia to come. When the Going Gets Tough, the Heliopaths* get Going!
(*Heliopath is my terminology for folks involved in the SUN Project. "Following the Path of the SUN"
)
In terms of some of the other Door Choices, I find it a waste of time to be getting all bent out of shape over whether HS is responsible for this or not. We have always been living on Borrowed Time, another Supervolcanic event or another Large Asteroid Collision is a GUARANTEE inside the next 100K-300K years at the outside. All the geological signs I see point to a near term GW effect regardless of what HS did or does in the future. The Yellowstone Caldera IS filling with magma, and the earthquake swarms there ARE on the increase. All you need to do to see how much geotectonic activity is increasing is go review the charts produced by DLindquist:
So we were going to face this stuff down sooner or later no matter what Homo Sapiens did during our existence on Earth. Life here was always a temporary thing, just as your own corporeal existence is a temporary thing.
So, in essence I consider myself a fortunate man, I got to be alive at the CUSP of what is likely to be either an ELE or a VERY serious Bottleneck of Population on the order of the Toba Cataclysm 75,000 years ago. If 10,000 Human Souls could make it through that one, it can be DONE AGAIN. I have a challenge before me only one other generation in the last 75,000 years of human history ever faced before. That is not just the challenge of a Lifetime, it is the challenge of MILLENIA of Lifetimes.
The Toba eruption or Toba event occurred at the present location of Lake Toba about 73,000±4,000 years[6][7] ago. This eruption was the last of the three major eruptions of Toba in the last 1 million years.[8] It had an estimated Volcanic Explosivity Index of 8 (described as "mega-colossal"), or magnitude ≥ M8; it made a sizable contribution to the 100X30 km caldera complex.[9]Dense-rock equivalent (DRE) estimates of eruptive volume for the eruption vary between 2,000 km3 and 3,000 km3 – the most common DRE estimate is 2,800 km3 (about 7×1015 kg) of erupted magma, of which 800 km3 was deposited as ash fall.[10] Its erupted mass was 100 times greater than that of the largest volcanic eruption in recent history, the 1815 eruption of Mount Tambora in Indonesia, which caused the 1816 "Year Without a Summer" in the northern hemisphere.[11]

The Toba eruption took place in Indonesia and deposited an ash layer approximately 15 centimetres thick over the whole of South Asia. A blanket of volcanic ash was also deposited over the Indian Ocean, and the Arabian and South China Sea.[12] Deep-sea cores retrieved from the South China Sea have extended the known reach of the eruption, suggesting that the 2,800 km3 calculation of the erupted mass is a minimum value or an underestimate.[13]…

…The Toba eruption has been linked to a genetic bottleneck in human evolution about 50,000 years ago,[28][29] which may have resulted from a severe reduction in the size of the total human population due to the effects of the eruption on the global climate.[30]

According to the genetic bottleneck theory, between 50,000 and 100,000 years ago, human populations sharply decreased to 3,000–10,000 surviving individuals.[31][32] It is supported by genetic evidence suggesting that today's humans are descended from a very small population of between 1,000 to 10,000 breeding pairs that existed about 70,000 years ago.[33]
I consider it a challenge before the whole human race
And I ain't gonna lose. -Freddie Mercury
Not if you Party like its 1999 will you be there after the Zero Point though. Not if you Hitch a Ride on Hale-Bopp will you be either. Nor will it do you a whole heck of a lot of good to just bemoan the TEOTW on the Doomstead Diner or Nature Bats Last or Deny what is coming and live life BAU EITHER!
Your ONLY chance (which may be very small, but still Non-Zero) is to TAKE ON THE CHALLENGE! What's the worst that can happen? You fail and die, but that would have happened anyhow, so not a downside risk in this case.
For those of us involved in the SUN Project
, we will not go down without a fight. We will NOT GIVE UP. We will not QUIT until the Fat Lady Sings. The very WORST that happens is we Die With Honor, doing what is right. BEST case, we are the 10,000 who make it through the Zero Point, as another group of Homo Sapiens did 75,000 years ago when things looked REALLY BAD and the Skies Went Dark. We Ride into the Valley of Death Unafraid. We are the Light Brigade of Doom.
I leave you today with the words of Alfred, Lord Tennyson.
The Charge of the Light Brigade

1.

Half a league, half a league,
Half a league onward,
All in the valley of Death
Rode the six hundred.
"Forward, the Light Brigade!
"Charge for the guns!" he said:
Into the valley of Death
Rode the six hundred.

2.

"Forward, the Light Brigade!"
Was there a man dismay'd?
Not tho' the soldier knew
Someone had blunder'd:
Theirs not to make reply,
Theirs not to reason why,
Theirs but to do and die:
Into the valley of Death
Rode the six hundred.

3.

Cannon to right of them,
Cannon to left of them,
Cannon in front of them
Volley'd and thunder'd;
Storm'd at with shot and shell,
Boldly they rode and well,
Into the jaws of Death,
Into the mouth of Hell
Rode the six hundred.

4.

Flash'd all their sabres bare,
Flash'd as they turn'd in air,
Sabring the gunners there,
Charging an army, while
All the world wonder'd:
Plunged in the battery-smoke
Right thro' the line they broke;
Cossack and Russian
Reel'd from the sabre stroke
Shatter'd and sunder'd.
Then they rode back, but not
Not the six hundred.

5.

Cannon to right of them,
Cannon to left of them,
Cannon behind them
Volley'd and thunder'd;
Storm'd at with shot and shell,
While horse and hero fell,
They that had fought so well
Came thro' the jaws of Death
Back from the mouth of Hell,
All that was left of them,
Left of six hundred.

6.

When can their glory fade?
O the wild charge they made!
All the world wondered.
Honor the charge they made,
Honor the Light Brigade,
Noble six hundred.
Part II-Uncertainty Principles
Off the keyboard of RE
Published on the Doomstead Diner on December 29, 2013
Discuss this article at the Doomsteading Table inside the Diner
It is the wee hours of Christmas Morning here on the Last Great Frontier, and I have been awake since Midnite after taking an early evening Nap on Christmas Eve. For the first time in I cannot recall how long (maybe the first time EVER!) , I have managed to avoid getting invited to anybody's house for Christmas Dinner, or any Christmas Parties either. Well, there is a small Work Party I will attend on Friday, but nothing here on Christmas Eve or on the Big Day itself.
People who aren't Loners get all bent out of shape about the idea of "being alone" on Christmas, like this is some kind of Mortal Sin. You are SUPPOSED to get together in a big crowd of people, open lots of Presents and then eat a massive Turkey Dinner. After a full month, you should have digested the Thanksgiving one, and finished the Leftovers too so it's time to stuff your face again! You are supposed to revel in the joy of watching Happy Children's faces as they open their newest Toys, this year probably the latest Ipad or XBox game.
I admit to being pretty astounded by this technology, and I buy some of it for myself too. Well, not Apple Shit, I buy Samsung Shit. I don't buy Xbox games either, even though I enjoyed playing the earliest Arcade Games like Space Invaders and Missile Command in my College years, and the Strategy Game Civilization after I got my first ACER Computer sometime in the early 90s I think it was. (That sucker had only 500MB on the HARD DRIVE! Talk about the Jurrassic period of computers. LOL.) I got pretty badly addicted to that game too for about 6 months until I finally learned how to beat it and win all the time, sometimes destroying all other Civilizations and taking over the Planet, crisscrossing the continents with Railroads and whatever High Tech stuff that early version of Civilization had to offer. Other times I would build the Spaceship to go Colonize other Planets. Those were your two choices basically if you won the game. Either GET OFF the Earth first, or DESTROY everybody else on the Planet. There were no choices there for a Genetic Bottleneck and massive crash of the human population or for Near Term Human Extinction either.
I had to wait until just recently to get a game like that, this time for my Samsung Tablet called PLAGUE. In that one, you get to design a Plague of varying types and the objective is to wipe out all of humanity. I got good at that game faster than Civilization, and wiped out Humanity numerous times with Viruses, Nano-Viruses, Bacteria and Fungi. There are a few other choices too, but I haven't had much time to play lately, what with battling out the REAL problem here right now on Earth. LOL. Computer games just don't measure up when the REAL THING is staring you in the face. At least for an adult this is true anyhow, not so true I think for the current generation of kids opening up their Xbox games this Christmas.
When I was touring our local Fred Meyer retail outlet, at the entrance they had a big display of the latest in Xbox games playing on a Big Screen LCD TV, and the ACTION and rendition of this stuff is amazing now. No more little Pac-men munching bits along a track, no more Super Mario Brothers cartoons jumping up and down, now you got 3D simulated Homo Sapiens that are getting so darn close to looking like Real Actors they probably won't NEED real actors anymore to make movies, least until the system collapses here anyhow. So your typical Kid Gamer Junkie now can use his Joystick to control the action, whatever it is from blowing away Zombies to flying Drones to being an NFL Quarterback, all in the comfort of Mom's Basement, long as the McMansion hasn't been foreclosed on yet anyhow.
So, plenty of distraction out there for the young'uns, but anyone past the age of 30 or so now who is oblivious to the writing on the wall has to be close to Brain Dead. Really, my co-host on the Collapse Cafe Monsta is in his 20s, and he can see it, so you don't absolutely need to be an Old Fart with many seasons under the belt to catch the drift here. It doesn't take a Weatherman to know which way the Wind Blows after all.
Far as the Weather here is concerned, the Weathermen on NBL predict a Near Term Human Extinction, based on their best Super Computer Modelling, and since we hooked up with these folks to help them cure a variety of website problems related to spam and hacking, I have been spending a decent amount of time offsite here battling what I consider to be counterproductive NEGATIVITY on the issue of how you REACT to all the problems we face down at the moment. Not sure there is a real good reason for arguing with people who are CERTAIN Extinction is in the offing here by Mid-Century, anymore than I am sure there is a real good reason for arguing with Christians about whether Jesus Christ was the Son of God, but I do it anyhow. LOL.
Absolute CERTAINTY of anything leads to fanaticism, particularly if what you are so certain of cannot be proven. Data on Climate Change is a lot like Data in the Bible, it all relies on assumptions made about the past or future, neither of which can be known with certainty. You can cross-correlate all you like to beef up your arguments, but Uncertainty remains in there always. I think many if not most people are uncomfortable dealing with uncertainty, they pick a Conclusion that fits their thinking and then they get to STOP thinking about it, because the problem is resolved for them. If things are Uncertain, you constantly have to re-evaluate and the Sands Shift Beneath Your Feet all the time. You are always swimming in the Sea of Uncertainty, and this is exhausting.
Depending on the type of certainty you have, it also leads to a kind of paralysis. There is no purpose to playing a game anymore once you become certain of the result. I stopped playing Civilization and PLAGUE! because once I was good enough at both those games, I was certain of the outcome, which was that I would win. If you went to a Baseball game and were certain of the outcome, it would cease to have any excitement or meaning. Yogi Berra phrased the reality of it most eloquently when he said "It ain't over until it's over". I remember one time leaving a Mets game with my dad in the 7th inning because he had some deal he hadda do, and the Mets were behind by like 6 runs and it looked like it was OVAH. Riding back into Manhattan in the car listening to the game on the radio, Cleon Jones hit a Grand Slam in the bottom of the 8th inning, and then in the 9th Bud Harrelson singled in two more runs and the game was TIED! Tug McGraw was called in from the Bullpen to pitch in Extra Innings and it went into the 11th inning before sadly the Mets lost that game, but WHAT A GAME! I shoulda still been there too, but Dad the Pigman had more important things to do.
I get battered over the head with data references when I engage the Uber Doomers on NBL, "Have you LOOKED at the graph on Ocean Acidification?". Like I can't read a graph as well as the next math genius out there. LOL. I am also fully aware of the 400+ Nuke Reactors out there which are Ticking Time Bombs and of the fact that the Arctic Ocean is bubbling up Methane like a warm bottle of Champagne. What this all tells me is that at the moment Man is ahead in the Destruction Game of the Earth by 6 runs, but in this game as Guy phrases it, Nature Bats Last and I don't know what Nature has up her sleeve here or what it is possible for her to do in the Bottom of the 9th.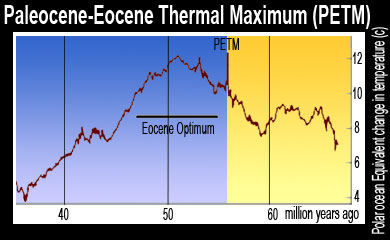 I do know that during the Pleistocene-Eocene Thermal Maximum (PETM) the earth was a good 6 C warmer on average than it is today, but it didn't keep going up and in fact reversed itself over time. I also know that while there was a massive Extinction Level Event during this period, all life was not extinguished either. It did not get sooooo hot that all the proteins denatured and no living thing could survive. Without a good explanation for why the warming reversed at the end of the PETM and why it won't again this time or at what average temperature level such a reversal might take place, I can't be CERTAIN of the outcome, and so the game is NOT OVAH.
There are some things here I can be certain of, for one that BAU will not continue on here much longer. Industrial Civilization as we know it can't continue onward without copious amounts of cheap energy oozing up out of the ground from holes poked in GAIA's skin by Homo Sapiens, and said cheap Oil is just about exhausted, with only very energy expensive Oil left to try to suck up from deep on down or wedged tightly into rock formations. It's not economic on an energy level to extract this stuff so eventually the wide open Credit Spigot for doing the development will trickle out, and the Black Gold will stop flowing.
It is also pretty certain (though not as certain) that along with the decreasing amount of per capita energy available, we won't be able to support the vast sea of humanity we have bred up here through the Age of Oil, and a very significant Die Off of Homo Sapiens will take place. What is uncertain and also very important here is precisely when this Die Off will begin in earnest (it already has begun in some places) and how rapidly it proceed across the Globe. Still more uncertain than that is precisely how society and civilization will react and adapt once this commences. You can be sure there will be some kind of reaction, you just can't be sure exactly what form that will reaction will take. A High Probability event of course is increasing Warfare and also major political dislocations and Goobermint changes/overthrows. What is uncertain in this one is how that will affect your neighborhood and then how you will deal with those eventualities as they occur.
Many if not most people on the Planet right now have very limited choices in what they can do or where they can live. The vast majority of the world population lives in desperate Poverty in places like Calcutta, Nairobi and Mexico City. They can't afford a bus ticket out much less a plane ticket, and about nowhere else on earth wants to take in new refugees either. In the Great Depression, this was imortalized in the sign, "Jobless Men, Keep Going. We can't take care of our own." Even here inside the FSoA, most of the population has very limited choices, means and knowledge to "Exit the Matrix". The folks Freezing in their Detroit apartments after the Christmas Ice Storm took out their electricity don't know what to do, even if they had some money they wouldn't know what to do. The situation these folks are in is hopeless, they cannot be saved. That is reality.
For the readers of websites like the Doomstead Diner or Nature Bats Last though, this is not the case just yet. It may be as time goes by, but not there quite yet. Although most people do not have means to set up their own Private Doomstead in the Boonies of Maine or the Highlands of Wales, it remains possible at the moment for people to organize up here even with limited means. That of course is why we set up the SUN4Living website. Here in the FSoA, you have to be pretty darn far off the cliff to not be able to connect to the Internet and network somehow. You can still go to libraries for free internet access if you don't have your own computer or smartphone. Even if you are homeless and at least have a Netbook, you can drop in a Coffee Shop or Laundromat and use their WiFi.
Besides the Infant Project of SUN, there are other networking possibilities in existence longer. World Wide Opportunities on Organic Farms (WWOOF) provides one such type of networking, though I think you generally need to be fairly young and not encumbered by a family to pursue this paradigm. Long in existence projects like The Farm in TN and Four Quarters Interfaith Sanctuary in PA provide a wealth of knowledge and information on transitioning off Industrial Living.
Are any of these ideas and methods long term Sustainable in the face of the many problems we face down here now, from Climate Change to Nuke Puke being Vomited Up all over the Planet? Probably not, they only provide a Bridging Solution for the near to medium term as we exit the energy intensive civilization we live under now. However, Bridging Solutions are important for numerous reasons, whether or not the End is Extinction in the Near Term. Extinction is GUARANTEED in the Long Term, so it is mainly a matter of timelines here on how long this actually takes to play itself out. Extinction would occrur regardless of what Homo Sapiens ever did or will do in the future. The Biosphere has a very limited timeline on the Universal Scale, it won;t support life for more than another 500M years no matter WHAT. So why get all bent out of shape if it occurs inside the next century? Bound to occur sometime, everything dies.
Anyhow, in the long term, you cannot win this game, that is a CERTAINTY. All life will be extinguished on earth at some point here, you just cannot be precisely certain how long it will take. So there is no point to playing a game where you expect the outcome to be LIFE FOREVER, unless of course you buy the Star Trek meme of Interstellar Travel, which I do not. Even there, the Universe eventually comes to a close, either Imploding on itself eventually or expanding and randomizing to Absolute Zero over time. In this game, all you play with are TIMELINES.
So, in such a Game, what is Winning? Winning is lasting longer than the Weatherman predicts. If the Weatherman predicts I can only survive to Mid-Century, I play the game to last longer than that. When I cross the Great Divide into the Great Beyond, I will meet up with the Weatherman, and I will Lord this Over Him. "See? You were WRONG! Homo Sapiens did NOT go Extinct by 2050. it took until 2150 because we played a better game than you predicted as possible." LOL.
Never QUIT, Never say DIE until you are well and truly DEAD. It ain't OVAH till it is OVAH, and the Fat Lady Sings too. The Game is afoot, and I play to WIN.
See you on the Other Side, Guy. ;)
RE
____________
Please limit yourself to two posts daily. More comments are welcome at the NBL Forum.
____________
The Next Step: Living Courageously in a World of Transition, a 14-day seminar, 12-25 March 2014, Izabal, Guatemala, Central America.
The Next Step: Living Courageously in a World of Transition, a 7-day seminar, 24-31 May 2014, Moho Creek, Belize, Central America.
The Next Step: Living Courageously in a World of Transition, a 14-day seminar, 12-25 June 2014, Izabal, Guatemala, Central America.
____________
Going Dark is available from the publisher here, from Amazon here, from Amazon on Kindle here, from Barnes & Noble on Nook here, and as a Google e-book here. Going Dark was reviewed by Carolyn Baker at Speaking Truth to Power and by several readers at Amazon. An excerpt follows, but first I will attempt to defuse the trolls: As with my other books, Going Dark will lose money even before I start giving away copies.
Safely shuttering a nuclear power plant requires a decade or two of careful planning. Far sooner, we'll complete the ongoing collapse of the industrial economy. This is a source of my nuclear nightmares.

When the world's 440 or so nuclear power plants melt down catastrophically, we've entered an extinction event. Think clusterfukushima, raised to the power of a hundred or so. Ionizing radiation could, and probably will, destroy most terrestrial organisms and, therefore, most marine and freshwater organisms. That, by the way, includes the most unique, special, intelligent animal on Earth.