by John Jorgenson, Climate Marcher from Tucson, Arizona
It occurred to me one day; "I'm another lemming".
I was sitting in traffic on my way to, get this, teach about environmental science, and I was the only one in my truck. I looked around at all the other "lemmings", and sure enough, everyone was solitary, alone in their metal world and impatiently waiting for the light to change. To get on with their lives I guess. I was aware that every minute I was spewing out noxious gases and adding to the already overbearing greenhouse effect and yet, stuck. There, in traffic, waiting for a light to change so I could race with everybody else for the cliff.
It was with some relief that I found a way to quit all that. I have to give up some comforts; like my apartment, comfortable bed, my stereo system, and my guitar collection, and exchange all that to live in a tent for the next eight months and subsist on oatmeal for breakfast and fresh vegetables… and get around by foot and bicycle only. And lose some of this fossil-fueled fat in the process. Actually, that doesn't sound half bad.
On March 1st of this year a group of 80 to 100 or so (or more please) people are going to set out from Los Angeles on an eight month journey to cross the United States and arrive in Washington, D.C. by November. As the brochure says, "the goal of the Great March for Climate Action is to change the heart and mind of America and its elected leaders to act NOW to address the climate crisis".
How successful we'll be, of course, remains to be seen. The way I see it, we don't have much choice. We have to somehow turn this gigaton diesel engine of mass consumption, that's driving life itself into retreat and extinction, around. It's a daunting hopeless task. It's also familiar territory for this former peace marcher. I shouldn't say "former", it's just that I went on a similar march across the country 28 years ago when we had a similar daunting task. The Great Peace March for Global Nuclear Disarmament of 1986 set out against all odds. In the 1980's we had Reagan's Star Wars practically guaranteeing a computer-glitch-away, minutes-to-midnight, all-out nuclear war. I was convinced that the Reaganites wanted it, worshipped it even, with their Armageddon theology. It was with this sad resignation, certainty, and despair that I set on that walk, anyway. Looks like we survived the Reagan and I was glad to be proved wrong.
I'm going on this march even if it is futile. Even if it, "is not going to accomplish a damn thing" in the words of someone near and dear to me. I have as much pessimism as ever about what Stupid Human Tricks our species can cleverly come up with to forestall nature's inevitable backlash. I am not sadly resigned to the mass extinction of life's diversity I see going on around me. I'm through with despairing how to save a lifestyle that isn't a LIFE affirming style. I'm pissed off about the fact that we're taking so much life down with us. Maybe I'll be wrong about this too.
I'd like to invite the readers and contributors for Nature Bats Last to come and join us for all or part of this historic march. Whatever your degree of conviction or uncertainty in the face of the climate juggernaut, come and talk with me about it. There's eight months and 3,000 miles to choose from. You can check out the more coherent (my apologies) message of the march, sign up, or contribute at http://climatemarch.org. They are really a fine group of people.
__________
Please limit yourself to two posts daily. Additional comments are welcome at the NBL Forum.
____________
Please join me in supporting our friend OzMan as he literally walks away. Click here for more information.
____________
Sunday, 9 February 2014, 3:00 p.m., Book-reading and -signing, McNally Robinson Book Sellers, Grant Park in the Atrium, 1120 Grant Avenue, Winnipeg, Manitoba, Canada
Thursday, 20 February 2014, 5:15 p.m., Singer room, Eugene Public Library, 100 West 10th Avenue, Eugene, Oregon, "Climate Chaos & Resistance to Ecocide: Talks by Guy McPherson and Deep Green Resistance"
Friday, 21 February 2104, 7:00 p.m., Vancouver Public Library, 901 C Street Vancouver, Washington, "Climate Chaos & Resistance to Ecocide: Talks by Guy McPherson and Deep Green Resistance"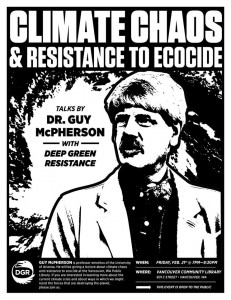 Saturday, 22 February 2014, 7:00 p.m., Bellingham Public Library, 210 Central Avenue Bellingham, Washington, "Climate Chaos"
Monday, 24 February 2014, 7:00 p.m., Odd Fellows Hall, 112 Haven Road, Eastsound, Washington (on Orcas Island), "Climate Chaos"
Wednesday, 26 February 2014, 7:00 p.m., San Juan Island Library, 1010 Guard Street, Friday Harbor, Washington
Thursday, 27 February 2014, 7:00 p.m., King's Books, 218 St. Helens Ave, Tacoma, Washington, reading excerpts and signing Going Dark (donation for space and expenses appreciated)
Friday, 28 February 2014, 7:00 p.m., Traditions Cafe, 300 5th Avenue SW, Olympia, Washington, "How Shall We Act in Light of Climate Chaos?"
Friday, 7 March 2014, Antigone Books, 411 North 4th Avenue, Tucson, Arizona, reading excerpts and signing Going Dark
The Next Step: Living Courageously in a World of Transition, a 7-day seminar, 24-31 May 2014, Moho Creek, Belize, Central America.
The Next Step: Living Courageously in a World of Transition, a 14-day seminar, 12-25 June 2014, Izabal, Guatemala, Central America.
__________
Going Dark is available from the publisher here, from Amazon here, from Amazon on Kindle here, from Barnes & Noble on Nook here, and as a Google e-book here. Going Dark was reviewed by Carolyn Baker at Speaking Truth to Power and by more than 15 readers at Amazon.