by Peter Melton and Guy McPherson
Homo sapiens (no photo available)
Age unknown, likely between 6,023 and 2,148,341 years of age.
The last member of the species died last night, 1 April 2030.
Take 1: The final survivor died a lonely death floating on a tree trunk somewhere near what was once known as the United States of America. A little bird told me.
Take 2: The final survivor died on his private island, known as Everest. In an odd twist of fate, the lone tree on the island fell and landed on him while he was fishing.
Take 3: In a profoundly human twist of fate, the final survivor, legless and with only one arm, died after eating his own heart.
He is survived by no other human family members. It is believed he is survived by many jellyfish and thermophiles in the great ocean and numerous methane-eating bacteria and methane-eating microbes in the small patches of land remaining on the planet.
The origin of the species has always been disputed. It either started when a Creator figure put together two mud figures in a garden, or the creature evolved through a very long process over millions of years from a single-celled being in the ocean, through fish, amphibians, and eventually the apes. This origin has been violently disputed. In fact, it is estimated that more than two zillion beings lost their lives in wars sparked mostly by this religious dispute or a fight over finite resources. Over the final 200 years, humanity fouled the water, land and atmosphere so much that the habitat became literally "unlivable."
More recently, Homo sapiens spent that last 30 years of its life watching and largely causing, the death of almost all species of marine, land, and sky animals they supposedly loved, along with the extinction of millions of less-obvious species in the delicate web of life. Apparently humans did not care at all about these latter species. The most powerful species on the planet turned wilderness into cities. It transformed Eden into Purgatory, and then finally into Hell.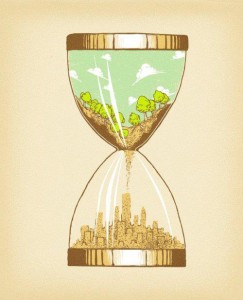 The never-ending quest for more led humanity to learn the ultimate hard lesson: "More is Less." The lesson came after the exam, and proved lethal.
In the end, it seems that this species was not able to grasp the idea that they could not continue to multiply their population and enjoy unlimited, ongoing growth and consumption on a small, finite, and fragile planet. It's tragically sad, really, because the species had such great potential.
The species left a tremendous legacy. In its wake, Earth was depleted of life, but fully blanketed with garbage and pollution. The water fouled, the air polluted with a toxic soup of emissions and ionizing radiation. Once-thriving soils became as lifeless as the oceans. And don't even get me started on the stunning conversion of fossil fuels by fossil fools.
The last human was self-buried at sea with no one in attendance. The few species that remain are very happy that the Wicked Witch is dead and they request that all donations go to the amazing non-profit organization, Nature Bats Last.
_______
BelleIslander posted a thoughtful comment on the latest thread. I'd appreciate your reaction to it.
_______
Catch Nature Bats Last on the radio with Mike Sliwa and Guy McPherson. Tune in every Tuesday at 8:00 p.m. Eastern time, or catch up in the archives here. If you prefer the iTunes version, including the option to subscribe, you can click here. Next week's show will feature an interview with two people living well outside the mainstream, brief segments on breaking hopium with Lindsay Morrison and Forrest Palmer, news beyond the mainstream, Doomer of the Week, and an update on the climate-change front.
_______
McPherson's forthcoming book is co-authored by Carolyn Baker. Extinction Dialogs: How to Live with Death in Mind has been submitted to the publisher and is scheduled for release before 1 October 2014.
_______
Find and join the Near-Term Human Extinction Support Group on Facebook here
_______
If you have registered, or you intend to register, please send an email message to guy.r.mcpherson@gmail.com. Include the online moniker you'd like to use in this space. I'll approve your registration as quickly as possible. Thanks for your patience.
_______
Going Dark is available from the publisher here, from Amazon here, from Amazon on Kindle here, from Barnes & Noble on Nook here, and as a Google e-book here. Going Dark was reviewed by Carolyn Baker at Speaking Truth to Power, Anne Pyterek at Blue Bus Books, and by more than three dozen readers at Amazon.