My latest interview with Reese Jones is embedded below.
************
I was interviewed the day before I delivered a presentation in Auckland, New Zealand. The resulting article is posted here.
The presentation was followed by an ambush. Check out the ensuing write-up here.
************
Pauline Schneider's film, Going Dark, is embedded below. Password is Going Dark. Please support her efforts at the tip jar. She'll not recover her costs, much less earn money, so you needn't worry about her becoming financially wealthy on this effort.
Going Dark Documentary from Pauline Schneider on Vimeo.
***********
McPherson was interviewed on Paul Henry's television program in Auckland, New Zealand last night. Catch the description and video here.
***********
McPherson will be interviewed on Sunday, 26 October 2014 at 4:15 p.m. on Radioactive Radio in New Zealand. Catch it here.
***********
Carolyn Baker is interviewed by Abby Martin about our collaborative book, Extinction Dialogs. Catch it below, beginning at the 6:51 mark and ending at the 14:13 mark.
************
Jamey Hecht has transformed his website from a focus on poetry, politics, and collapse. He now writes about climate change. Catch up with him here.
************
As indicated below, McPherson will be traveling for the next couple weeks and will have limited access to the Internet. Please try to behave.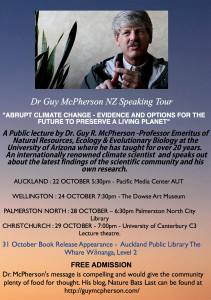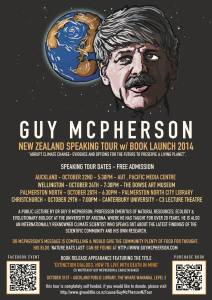 ****************************************************************
Catch Nature Bats Last on the radio with Mike Sliwa and Guy McPherson. Tune in every Tuesday at 8:00 p.m. Eastern time, or catch up in the archives here. If you prefer the iTunes version, including the option to subscribe, you can click here.
This week McPherson interviewed Ray McGovern, a legend in the whistle-blower community. The podcast is here.
_______
McPherson's latest book is co-authored by Carolyn Baker. Extinction Dialogs: How to Live with Death in Mind is available.
_______
Find and join the Near-Term Human Extinction Support Group on Facebook here
_______
If you have registered, or you intend to register, please send an email message to guy.r.mcpherson@gmail.com. Include the online moniker you'd like to use in this space. I'll approve your registration as quickly as possible. Thanks for your patience.
_______
Going Dark is available from the publisher here, from Amazon here, from Amazon on Kindle here, from Barnes & Noble on Nook here, and as a Google e-book here. Going Dark was reviewed by Carolyn Baker at Speaking Truth to Power, Anne Pyterek at Blue Bus Books, and by more than three dozen readers at Amazon.