A recently completed, 12-day speaking tour to California and southern Oregon totaled more than 20 formal events and many additional informal ones. Big thanks to my friends Peter Melton and Wolf for their entertaining company, and to Peter for voluntarily taking on the task of my west-coast manager (and performing the task brilliantly).
Yes, I traveled with Peter and the Wolf. My life has become a children's story. The best part: I get to play the child.
I accumulated a few lines and analogies along the way, thanks to my friends. A few are listed below.
Me, explaining the impact of carbon dioxide emissions on temperature rise: "It's not a car. It's a greenhouse on wheels."
Me, in response to somebody apologizing for arriving a few minutes late for a discussion: "It's fine. Whenever you show up for one of my events, it's the end."
Peter Melton: "I have bad news and good news. The bad news is that climate change is a real, immediate, dire problem. The good news is that this problem fixes all our other problems."
Wolf, on the topic of societal response to abrupt climate change: "I was concerned because we wouldn't change. Now I'm liberated because we can't change."
Peter's Titanic analogy:
The captain speaks into the public address system: "We're about to hit an iceberg. We don't know how long we have. Dinner will not be served. The band will continue to play in the lounge."

Peter then points out that almost every response is appropriate. Some people will want to snuggle with their sweetie in the berth. Others will prefer to party in the lounge. Somebody will want to kill the captain. People will want to launch lifeboats. Others will want to built lifeboats from the existing furniture. At this point, blame and judgment are misguided.

My responses to Peter's analogy were two-fold: It's too optimistic (there are no lifeboats) and please don't kill the captain messenger (he looks a lot like me).
Peter came up with another analogy. He's a smart man. In this one, the apes in the jungle discover fire and its myriad uses. They modify their habitat in exciting ways. But when they weren't paying proper attention, they burned down the jungle. Whoops.
Again, let's not seek a culprit to blame. Let's abandon guilt and judgment. We're all in this together, until we're not.
My gratitude was reinforced many fold on this tour, in large part because of my interactions with my new friends. I get to live, and my message encourages others to live with urgency. Ditto for my liberation. The shackles of culture are meaningless. The absurdity grows ever more profound.
_______
As indicated below, I will be traveling for the next couple weeks and will have limited access to the Internet. Please try to behave.
Huge thanks to Kevin Hester for hosting and organizing and funding my trip to New Zealand. Thanks, too, to Shaun Pettigrew for media support.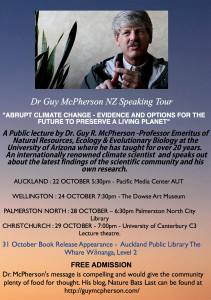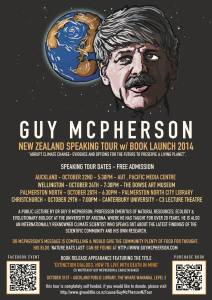 ****************************************************************
Catch Nature Bats Last on the radio with Mike Sliwa and Guy McPherson. Tune in every Tuesday at 8:00 p.m. Eastern time, or catch up in the archives here. If you prefer the iTunes version, including the option to subscribe, you can click here.
The show from two nights ago, on 14 October 2014, is archived here.
_______
McPherson's latest book is co-authored by Carolyn Baker. Extinction Dialogs: How to Live with Death in Mind is available.
_______
Find and join the Near-Term Human Extinction Support Group on Facebook here
_______
If you have registered, or you intend to register, please send an email message to guy.r.mcpherson@gmail.com. Include the online moniker you'd like to use in this space. I'll approve your registration as quickly as possible. Thanks for your patience.
_______
Going Dark is available from the publisher here, from Amazon here, from Amazon on Kindle here, from Barnes & Noble on Nook here, and as a Google e-book here. Going Dark was reviewed by Carolyn Baker at Speaking Truth to Power, Anne Pyterek at Blue Bus Books, and by more than three dozen readers at Amazon.