Parts of my latest interview with Reese Jones are embedded below. Part 1 can be found here.
Robin Westenra provides a description of a recent event, and he includes several photographs. It's a bit unusual, and it's posted here.
************
As indicated below, McPherson will be hosted by Kevin Hester in New Zealand for another couple of days, with limited access to the Internet. Please try to behave.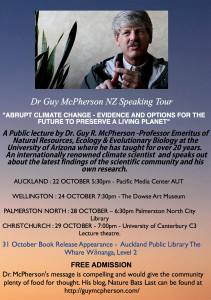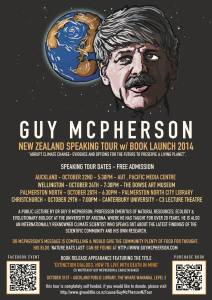 ****************************************************************
Catch Nature Bats Last on the radio with Mike Sliwa and Guy McPherson. Tune in every Tuesday at 8:00 p.m. Eastern time, or catch up in the archives here. If you prefer the iTunes version, including the option to subscribe, you can click here.
This week Pauline Schneider serves as guest host and interviews two activists in Pleasantville, New York. The podcast is available here.
_______
McPherson's latest book is co-authored by Carolyn Baker. Extinction Dialogs: How to Live with Death in Mind is available.
_______
Find and join the Near-Term Human Extinction Support Group on Facebook here
_______
If you have registered, or you intend to register, please send an email message to guy.r.mcpherson@gmail.com. Include the online moniker you'd like to use in this space. I'll approve your registration as quickly as possible. Thanks for your patience.
_______
Going Dark is available from the publisher here, from Amazon here, from Amazon on Kindle here, from Barnes & Noble on Nook here, and as a Google e-book here. Going Dark was reviewed by Carolyn Baker at Speaking Truth to Power, Anne Pyterek at Blue Bus Books, and by more than three dozen readers at Amazon.