I'm copying below an essay, verbatim, originally posted in this space on 28 May 2010. But first I include a (very) few words of introduction and an embedded song.
People of privilege will always risk their complete destruction rather than surrender any material part of their advantage.
~ John Kenneth Galbraith
I'm there. I found what I was looking for. Sure enough, it's a curse.
May you live in interesting times.
Mission accomplished. I'm there, as we all are. As we always have been, during two million years of the human experience.
May you attract the attention of the government.
I'm there, as I have been for years. To remove all doubt, about five years ago I placed a call to then-Governor Napolitano's lead advisers on two topics, Energy and Agriculture & Natural Resources. I begged and pleaded with them, but they kept coming back with their singular response: "There is nothing we can do about global peak oil."
It took a couple years for me to figure out what they meant because, of course, there are many things the government can and should do to mitigate for declining energy supplies. Government officials could start by letting citizens in on the truth about energy.
So, what did members of the governor's staff really mean? There are no politically viable solutions. In this case, telling the truth is political suicide. The impending death of millions of people — and perhaps billions — pales in comparison to political careerism.
May you find what you're looking for.
I'm talking to a naturalist I barely know. His one-year-old son is resting on his shoulders and treating a cattail as his personal magic wand. The seeds of the cattail are falling into the hair and beard of the 40-year-old naturalist as the boy succumbs to his own personal energy crisis and, fighting all the way down, succumbs to slumber.
I'm writing a book about the dire nature of our predicaments and I mention the high likelihood of a global economic collapse within a decade or so. The naturalist doesn't bat an eye before responding: "I hope I'm around to see it. I don't want my son to have all the fun."
Fast forward six years, and I'm sharing a property with the naturalist and his young son. Collapse of the industrial economy is well underway, and has entered the acceleration phase of its death spiral. Obviously, we will live to see the final stages of the ongoing collapse of the industrial economy. As a result, we might see the living planet take the first tentative steps to a comeback.
Or perhaps not. Maybe in the coming few years we will die, collateral damage of the demise of the industrial economy. Just like entire ecosystems in the Gulf of Mexico and the millions of species organisms within them, consumed by the fire as Rome goes up in flames.
Maybe lifting the curse of industry will reveal a worse fate, at least at the level of individuals. But it's difficult to imagine a situation in which termination of the industrial age will not improve the lots of every non-industrial culture and every non-human species on this planet.
May we find what we're looking for, regardless of the personal cost.
______
Thanks to Roblyn Crawford for initiating a fund-raising campaign in support of speaking tours. It's here. Please share widely. Roblyn also is seeking volunteers to support a May speaking tour in California. Specifically, Roblyn says we need a place for Guy to eat and sleep in Sacramento on 2 May 2016. And we need places for Guy to eat and sleep and venues in Marin (30 April), Grass Valley (3 May), Santa Rosa (6 May), Santa Cruz (12 May), and Santa Barbara (13 May). We are also seeking venues and hosts in the Los Angeles area 17, 18, and 19 May 2016. If you are able to help, please send a message to booking@crawfordsattractions.com
Coming Events
Wednesday, 20 April 2016 at 1:00 p.m. Eastern, webinar: "Six a Paths to Near-Term Human Extinction." Read description and register here.
Webinar April 20,2016 from Pauline Schneider on Vimeo.
Friday, 22 April 2016 at 7:00 p.m., "Responding to Abrupt Climate Change," Astronomical Society of Las Cruces, Doña Ana Community College, 3400 South Espina Street, Room 141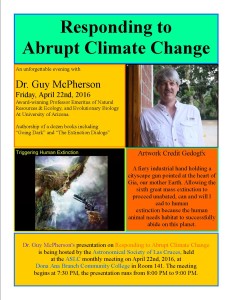 Early May 2016: Sacramento, San Francisco, Berkeley, Santa Rosa, Middletown, Chico, Grass Valley, Redding, and Santa Cruz, California. Follow on Facebook.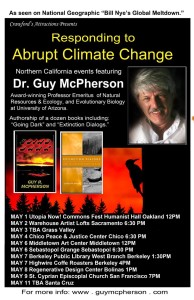 1 May 2016, 12:00 noon, Utopia Now! conference, Humanist Hall, 390 27th Street, Oakland, California
6 May 2016, 12:00 noon, Middletown Art Center, 21456 Highway 175, at the junction of Highway 29, Middletown, California, "The Valley Fire Connection to Abrupt Climate Change"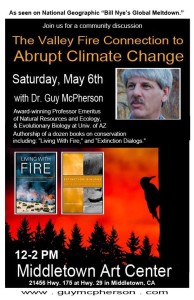 13-24 May 2016: Ojai, Los Angeles, and Fountain Valley, California. Follow on Facebook.
13 May 2016, 7:00 p.m., Bookends Books, 110 South Pueblo Avenue, Ojai, California
14 May 2016, 1:00 p.m., Bookends Books, 110 South Pueblo Avenue, Ojai, California
15 May 2016, 4:00 p.m., The Grange, 381 Cruzero Street, Ojai, California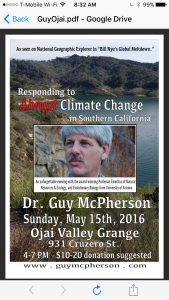 9-13 September 2016: The Real Truth About Health Conference, Caribe Royale Hotel, Orlando, Florida, additional details forthcoming
14-27 September 2016: New Jersey, New York, Massachusetts, Connecticut, Rhode Island. Follow on Facebook.
October 2016: USA Pacific Northwest
November 2016: New Zealand and Australia
______
Catch Nature Bats Last on the radio with Mike Sliwa and Guy McPherson. To listen live, tune in every Tuesday at 3:00 p.m. Eastern time, or catch up in the archives here. If you prefer the iTunes version, including the option to subscribe, you can click here. We're on Stitcher, too.
As always, the schedule of topics for forthcoming episodes of the radio show is posted beneath the tab at the top of the page titled, "Radio Archive and Recent Video." Please help us out, especially with episodes that focus on criticism of climate scientists and activists by sending your contributions to Mike at mikeyjonsliwa@gmail.com. The next of these shows is scheduled for 5 April 2016 and will focus on the non-profit industrial complex. We will be joined by independent journalist Cory Morningstar.

McPherson's latest book is available in audio, and can be purchased here. Ms. Ladybug and Mr. Honeybee: A Love Story at the End of Time is intended for ages 11 and up.