I'm re-posting below an essay, verbatim, from 17 July 2009. Consistent with my usual recent pattern, I'm adding a few introductory words and an embedded song.
I was interviewed for the latest, and perhaps last, episode of Extinction Radio. Catch the 20-minute interview here.
"Man has gone out to explore other worlds and other civilizations without having explored his own labyrinth of dark passages and secret chambers, and without finding what lies behind doorways that he himself has sealed."
~ Stanisław Lem
There's been a lot of recent chatter on the Internet about escaping Earth for another place to live. Apparently awareness is growing with respect to the inability of humans to survive on this planet. Having passed a few dozen Rubicons, the financial elite are looking for an exit. For them, of course.
And, yes, I know the bumper sticker is a joke. And I can tell them, too.
The bumper sticker starts with bold type: EARTH FIRST!
The second line is smaller: We'll mine the other planets later.
The very notion that we can rely on other planets for resources after we trash this one is ignorant and offensive. I'll start with the offensive part before discussing the ignorant part.
First, ethics: Did these people learn nothing in kindergarten? Never mind treating every single thing as a resource, placed here (and apparently everywhere) specifically for human consumption. Do they have no problem obliterating the living Earth in the name of economic growth? Do they have no problem committing future generations to hell on Earth, as long as they get "their" share of the planetary pie?
Consensus around an ethical argument requires agreement about ethical behavior. Apparently that's beyond us, as a species. Onward, then to the overwhelming technological challenges faced by co-opting the resources of other planets as if they are our own.
An overwhelming majority of Americans (and citizens of the world, for that matter) think Earth is a mere stopover for a better future. The future lasts forever, and the destination is heaven. There is no need to conserve this planet's resources if the rapture is near. Never mind that the planet's days were seriously numbered, according to Jesus during his own time — specifically, to the generation populating the planet when Jesus was preaching. The rapture has been right around the corner for at least two millennia.
Even many secular people believe Earth is an egg. Once needed, we will simply abandon this ship for another planet. How stupid is this view? Quantitative skills have never been revered in this country, so it's no surprise most people think we can simply plan the journey and load up the rich folks (including all middle-class Americans, of course) on a few minutes' notice. Let's actually do the math.
The following analysis is adapted from my 2005 book, Killing the Natives. Numbers are from NASA's website, accessed in 2004. I suspect the situation has become considerably less tractable during the last five years.
The space shuttle represents the pinnacle of the manned space program, so I use it as the basis for this analysis. Endeavour, the latest addition to the fleet, cost $1.7 billion to construct. Current cost to launch the shuttle is $300 million for the first 8 launches each year, then $90 million for the subsequent 2 annual launches on the rare occasions they are possible. A variety of logistical constraints limit NASA to 10 launches each year. For purposes of this analysis, I assume a single craft can be ramped up to carry 10,000 people (vs. 7, a 1,400-fold increase) with no increase in cost. I further assume NASA will overcome the many constraints on the number of annual launches, so that — starting next week — 20 shuttles per day can be launched (vs. 10 per year, a 730-fold increase). For simplicity, I assume each launch will cost only $90 million. Finally, I assume the increased number of launches will come at no cost to human life, in contrast to the 2% failure rate currently exhibited by shuttle flights (a failure rate of 2% translates to 4,000 human deaths each day).
Why 20 shuttles per day? With 10,000 people on board, we must launch 20 shuttles each day just to keep up with current population growth. This rate of emigration gets rid of the 200,000 extra people born each day, compared to those who die. Thus, we will barely keep pace with current population growth.
These very conservative figures suggest a daily cost of $34 billion to build the 20 required shuttles and an additional $1.8 billion to launch them. Thus, the cost for a year's worth of launches exceeds $13 trillion, or about 30% more than the annual gross doomestic [that's not a typo] product of the U.S.
A condom, on the other hand, costs less than a dollar. Thirteen trillion bucks will buy a lot of condoms, thereby sparing us the daunting task of shipping our extra progeny to space and having to worry about finding a new planet when we've mined this one beyond all possible of repair.
In addition to the daunting economic challenges facing space travelers — which, after all, can be overcome by the printing presses Obama and his gang of Keynesian neo-cons have running at full speed already — there is the more significant set of constraints imposed by the laws of physics. For example, the nearest star beyond our sun that might support life is Alpha Centauri, at a distance of 4.3 light-years. Thus, the nearest planet potentially (but improbably) capable of supporting human life is about 25 quadrillion miles away (that's 25 million million miles, sports fans). No physicist believes it is possible to travel anywhere near the speed of light. If we could, the 4.3 light-years would be traversed in 4.3 years. Since there is no sunlight to produce energy along the way, the shuttle would have to be modified to carry enough energy to push the vessel and support the needs of passengers. No reasonable scenarios have been developed to support such an effort.
Two additional constraints are obvious. First, a vessel traveling at the speed of light would be destroyed upon striking an ounce or so of particulate matter. As currently designed the shuttle cannot withstand being struck by small pieces of foam at velocities considerably less than the speed of light. If the ship survives the constant assault from small stellar bodies, it likely will accrue mass from interstellar dust. The accumulated dust will significantly slow the ship's speed. Second, there is no guarantee that a planet in Alpha Centauri's orbit will support human life. There is a very good chance that 25 quadrillion miles is merely the first leg of a very long voyage.
These significant obstacles notwithstanding, the greatest constraints on interstellar travel are based not on economics or logistics, but on human psychology. Given the acute constraints on cargo, people on interstellar flights will have to live with essentially no conveniences. There could be virtually no bathing (water would be far too valuable), no washing clothes (but there would be very few clothes to wash, in any event), no food except that absolutely necessary for survival, and so on. Due to the extremely high cost associated with transporting each ounce of material, this would be a bare-bones journey. And because there will be no room for resources or extra bodies, the travelers will have to forgo reproduction at least until they find the next planet to colonize. By the most optimistic accounts, this will take many years; more realistic scenarios suggest that finding a new home will require several generations of space travel, indicating that reproductive rights must be restricted for several generations. The people who are willing to make these sacrifices, and who therefore serve as suitable candidates for interstellar travel, are badly needed here on Earth. The people we really need to dispatch are the ones who are unqualified for space travel: They can restrain themselves neither with respect to procreation nor acquisition and use of material possessions.
If we're "successful," we need to ask the ecological literate question: "And then what?" We're still on the brink of ecological disaster here on Earth, and we've managed to export the predicament of ecological overshoot to another planet. And this seems like a good idea?
______
Thanks to Crawford's Attractions for initiating a fund-raising campaign in support of speaking tours. It's here. Please contribute if you can, and share widely.
We're also is seeking volunteers to support my speaking tours this year. In California, we need a place for me to present in Grass Valley May 3rd, and in Los Angeles on May 18th and 19th.
On the East Coast, we need venues and drivers in Boston (10/3 and 10/4), New York (10/9-10/11), New Jersey (10/12-10/14), and Pennsylvania (10/15-10/17).
Finally, we need venue suggestions and volunteer drivers for Australia and New Zealand in November/December.
If you are able to help, please send a message to booking@crawfordsattractions.com
Coming Events
Wednesday, 20 April 2016 at 1:00 p.m. Eastern, webinar: "Six a Paths to Near-Term Human Extinction." Read description and register here.
Webinar April 20,2016 from Pauline Schneider on Vimeo.
Friday, 22 April 2016 at 7:00 p.m., "Responding to Abrupt Climate Change," Astronomical Society of Las Cruces, Doña Ana Community College, 3400 South Espina Street, Room 141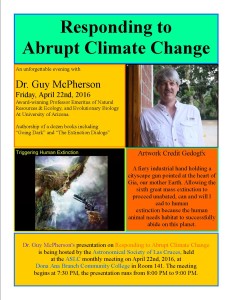 Early May 2016: Sacramento, San Francisco, Berkeley, Santa Rosa, Middletown, Chico, Grass Valley, Redding, and Santa Cruz, California. Follow on Facebook.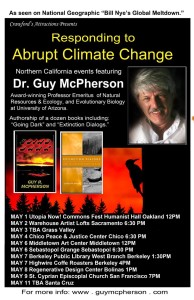 1 May 2016, 12:00 noon, Utopia Now! conference, Humanist Hall, 390 27th Street, Oakland, California
6 May 2016, 12:00 noon, Middletown Art Center, 21456 Highway 175, at the junction of Highway 29, Middletown, California, "The Valley Fire Connection to Abrupt Climate Change"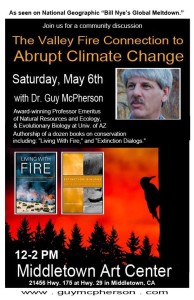 13-24 May 2016: Ojai, Los Angeles, and Fountain Valley, California. Follow on Facebook.
13 May 2016, 7:00 p.m., Bookends Books, 110 South Pueblo Avenue, Ojai, California
14 May 2016, 1:00 p.m., Bookends Books, 110 South Pueblo Avenue, Ojai, California
15 May 2016, 4:00 p.m., The Grange, 381 Cruzero Street, Ojai, California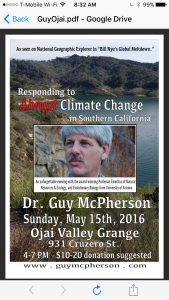 9-13 September 2016: The Real Truth About Health Conference, Caribe Royale Hotel, Orlando, Florida, additional details forthcoming
14-27 September 2016: New Jersey, New York, Massachusetts, Connecticut, Rhode Island. Follow on Facebook.
October 2016: USA Pacific Northwest
November 2016: New Zealand and Australia
______
Catch Nature Bats Last on the radio with Mike Sliwa and Guy McPherson. To listen live, tune in every Tuesday at 3:00 p.m. Eastern time, or catch up in the archives here. If you prefer the iTunes version, including the option to subscribe, you can click here. We're on Stitcher, too.
As always, the schedule of topics for forthcoming episodes of the radio show is posted beneath the tab at the top of the page titled, "Radio Archive and Recent Video." Please help us out, especially with episodes that focus on criticism of climate scientists and activists by sending your contributions to Mike at mikeyjonsliwa@gmail.com. The next of these shows is scheduled for 5 April 2016 and will focus on the non-profit industrial complex. We will be joined by independent journalist Cory Morningstar.

McPherson's latest book is available in audio, and can be purchased here. Ms. Ladybug and Mr. Honeybee: A Love Story at the End of Time is intended for ages 11 and up.