"As soon as anyone starts telling you to be "realistic," cross that person off your invitation list."
~ John Eliot
As it turns out, I was correct with a solution-packed book I wrote more than a decade ago. Killing the Natives: Has the American Dream Become a Nightmare? was replete with dire descriptions of the myriad challenges facing our species, and equally replete with solutions. The book is heavy on hope and techno-optimism.
My 2005 book is wuite dreadful, though. It's not well-written and it calls upon the populace to change behavior. Fortunately, thanks to the latest episode of Nature Bats Last on the radio, all our problems are solved. We need only read Dr. Helen Caldicott's books and follow her sage advice. Whew, was that ever a close call.
I'm not surprised somebody from the only country with a per-capita higher consumption of oil than the U.S. is looking to America for leadership. And Australia's Prime Minister has a great plan to smash the Great Barrier Reef to efficiently export coal. What could possibly go wrong?
Dr. Caldicott echoes many progressive voices in pointing out that we need only (1) elect Bernie Sanders president of the United States, (2) decommission nuclear power plants, and (3) switch to an all-renewable energy system at the global level. I'll briefly address each of these items below.
Electing Bernie Sanders looks easy to me. He's articulate, angry, and he claims to be working on behalf the citizenry. And he's a socialist! What's not to love? I foresee complete implosion of Ms. Clinton's campaign as Democratic voters realize she's a wealthy war-monger. And Bernie vs. Trump in the general election is clearly rigged for the older, wiser, paler man.
As Dr. Caldicott pointed out during the interview, only 50 years are required to decommission a nuclear power plant. There are only about 450 of them around the world, and we have plenty of time. And, apparently Fukushima doesn't even pose an extinction-level threat to humans. There's currently no financial incentive to decommission nuclear power facilities, but we know money is a minor issue in the industrialized world. I'm convinced the people will rise up this week, or next week at the latest, and demand we replace money with reason on the nuclear problem. Once America shows the way on this issue, those silly nuclear plants will be decommissioned as smoothly as unicorns take flight.
Finally, there's the renewable alternative. Here again, we have technology and we will employ it to maximum effect. Soon, we'll be using solar-powered factories to create wind turbines and solar panels. All our energy will be as clean as Hillary Clinton's email account. We'll address the issue of global dimming by selective infusion of aerosols into the atmosphere. And we'll simply agree to stop destroying habitat for non-human species, in part with a global agreement to cease human-population growth.
There are other problems I've not mentioned here. But our collective will is sufficient to overcome any niggling difficulties we may face along our path to a bright, sustainable future. We need only imagine our common, dream-like future and then use a little old-fashioned elbow grease to create it. After all, if the people lead, the leaders will follow.
Thanks to Crawford's Attractions for initiating a fund-raising campaign in support of speaking tours. It's here. Please contribute if you can, and share widely.
We're also is seeking volunteers to support my speaking tours this year. In California, we need a place for me to present in Grass Valley May 3rd, and in Los Angeles on May 18th and 19th.
On the East Coast, we need venues and drivers in Boston (10/3 and 10/4) New York (10/9-10/11), New Jersey (10/12-10/14), Pennsylvania (10/15-10/17),
Finally, we need venue suggestions and volunteer drivers for Australia and New Zealand in November/December.
If you are able to help, please send a message to booking@crawfordsattractions.com
Coming Events
Wednesday, 20 April 2016 at 1:00 p.m. Eastern, webinar: "Six a Paths to Near-Term Human Extinction." Read description and register here.
Webinar April 20,2016 from Pauline Schneider on Vimeo.
Friday, 22 April 2016 at 7:00 p.m., "Responding to Abrupt Climate Change," Astronomical Society of Las Cruces, Doña Ana Community College, 3400 South Espina Street, Room 141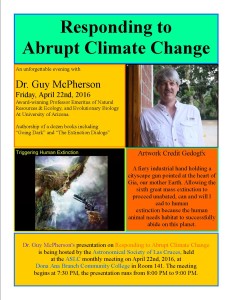 Early May 2016: Sacramento, San Francisco, Berkeley, Santa Rosa, Middletown, Chico, Grass Valley, Redding, and Santa Cruz, California. Follow on Facebook.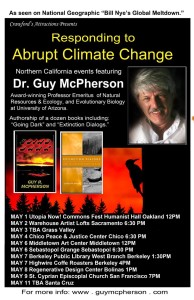 1 May 2016, 12:00 noon, Utopia Now! conference, Humanist Hall, 390 27th Street, Oakland, California
6 May 2016, 12:00 noon, Middletown Art Center, 21456 Highway 175, at the junction of Highway 29, Middletown, California, "The Valley Fire Connection to Abrupt Climate Change"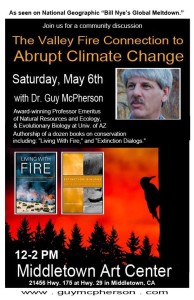 13-24 May 2016: Ojai, Los Angeles, and Fountain Valley, California. Follow on Facebook.
13 May 2016, 7:00 p.m., Bookends Books, 110 South Pueblo Avenue, Ojai, California
14 May 2016, 1:00 p.m., Bookends Books, 110 South Pueblo Avenue, Ojai, California
15 May 2016, 4:00 p.m., The Grange, 381 Cruzero Street, Ojai, California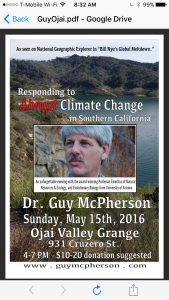 9-13 September 2016: The Real Truth About Health Conference, Caribe Royale Hotel, Orlando, Florida, additional details forthcoming
14-27 September 2016: New Jersey, New York, Massachusetts, Connecticut, Rhode Island. Follow on Facebook.
October 2016: USA Pacific Northwest
November 2016: New Zealand and Australia
______
Catch Nature Bats Last on the radio with Mike Sliwa and Guy McPherson. To listen live, tune in every Tuesday at 3:00 p.m. Eastern time, or catch up in the archives here. If you prefer the iTunes version, including the option to subscribe, you can click here. We're on Stitcher, too.
As always, the schedule of topics for forthcoming episodes of the radio show is posted beneath the tab at the top of the page titled, "Radio Archive and Recent Video." Please help us out, especially with episodes that focus on criticism of climate scientists and activists by sending your contributions to Mike at mikeyjonsliwa@gmail.com. The next of these shows is scheduled for 5 April 2016 and will focus on the non-profit industrial complex. We will be joined by independent journalist Cory Morningstar.

McPherson's latest book is available in audio, and can be purchased here. Ms. Ladybug and Mr. Honeybee: A Love Story at the End of Time is intended for ages 11 and up.