2 November 2017, 6:30 p.m., 600 Bay Street, That Channel Auditorium, Toronto, Ontario, Canada
3 November 2017, 7:00 p.m., 262 Middletown Road at Highway 9, West Flamborough Presbyterian Church, Hamilton, Ontario, Canada. Reserve seats at https://abruptclimatechange.eventbrite.ca
4 and 5 November 2017, Workshop on Abrupt Climate Change: How will you show up during humanity's final chapter?
First day of workshop will be held between 10:00 a.m. and noon at West Flamborough Presbyterian Church, 262 Middletown Road at Highway 9, Hamilton, Ontario, Canada

Second day will be held between 10:00 a.m. and 4:00 p.m. at a location to be determined

Fee $200, payable at the door. Maximum 20 people. Prior attendance at a lecture required. Register by email to info@guymcphersontour.com
6 November 2017, 7:00 p.m., Kitchener Memorial Auditorium, Subscribers Lounge (2nd floor), 400 East Avenue, Kitchener, Ontario, Canada. Register at https://abruptclimatechange_waterloo.eventbrite.ca
7 November 2017, 10:30 a.m., Psychology Building, Hall PC 155, McMaster University, Hamilton, Ontario, Canada, public welcome, parking nearby off Main Street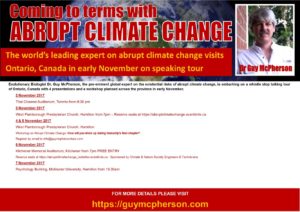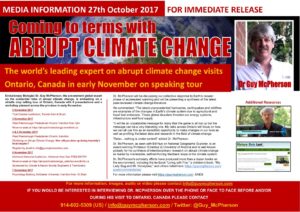 I'm scheduled to visit Norway in December 2017. My itinerary has me arriving into the Oslo airport late afternoon 9 December 2017 and departing late morning 17 December 2017. I'm willing to deliver a presentation or two if somebody will arrange a venue. I'll engage in the conversation few are willing to have over a meal, if there is any interest. Please send me an email message if you'd like to pursue either option: guy.r.mcpherson@gmail.com

Thanks to my volunteer booking team for seeking additional volunteers in support of my speaking tours. If you would like to host me in your area, please send a message to info@guymcphersontour.com
I'm featured in a video series that airs now and then. Catch all released episodes of the Guy, Fawkes, and Jamen show here.
I've received several requests for a workshop focused on emotions for people who accept the evidence underlying our near-term demise. Such a workshop is described here. It is generally available at the homestead I occupy in Belize.
I'm booking guests at the mud hut. For details, click here.

McPherson's latest book is available in audio, and can be purchased here. Ms. Ladybug and Mr. Honeybee: A Love Story at the End of Time is intended for ages 11 and up.
Mugs, tote bags, iPhone cases, tee shirts, and other pragmatic goods affiliated with the book are available here