I'm available to tour and speak in your area this year. I'm hosting a workshop in March and I've a tour planned in May, as indicated beneath the Coming Events tab. A few other tours are in the early stages of development, and I'm available for interviews and speaking tours throughout most of 2018.
Despite the enormous personal cost, I continue to tour in exchange for travel expenses from my home in Belize. In my usual style, I will stay in the homes of my host(s) and eat at their table(s) to minimize costs. Please let me know if you're interested via email message to me: guy.r.mcpherson@gmail.com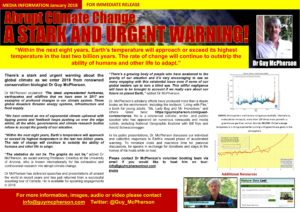 I will continue to pursue justice in the ongoing defamation case. Please join me.
As a result of my move to Belize, the mud hut is for sale. Read the details here.
______
Thanks to my volunteer booking team for seeking additional volunteers in support of my speaking tours. If you would like to host me in your area, please send a message to info@guymcphersontour.com
I'm featured in a video series that airs now and then. Catch all released episodes of the Guy, Fawkes, and Jamen show here.
I've received requests for a workshop focused on emotions for people who accept the evidence underlying our near-term demise. Such a workshop is described here. It is available at the homestead I occupy in Belize.

My latest book is available in audio, and it can be purchased here. Ms. Ladybug and Mr. Honeybee: A Love Story at the End of Time is intended for ages 11 and up.
Mugs, tote bags, iPhone cases, tee shirts, and other pragmatic goods affiliated with the book are available here