The screenshot below provides a single, minor indication of the sort of nonsense I deal with every day. It's an application to the Facebook group based on my work. I'm one of four administrators or moderators of the group. This applicant didn't quite squeeze into the group based upon these responses.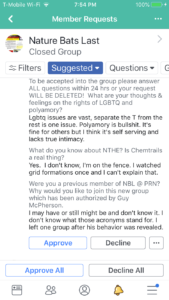 Thanks to my all-volunteer booking team for seeking additional volunteers in support of my speaking tours. If you would like to host me in your area, please send me a message at guy.r.mcpherson@gmail.com

My latest book is available in audio, and can be purchased here. Ms. Ladybug and Mr. Honeybee: A Love Story at the End of Time is intended for ages 11 and up.
Mugs, tote bags, iPhone cases, tee shirts, and other pragmatic goods affiliated with the book are available here