Travel makes one modest. You see what a tiny place you occupy in the world.
~ Gustav Flaubert
My latest, 32-day speaking tour transpired in Alaska, California, and Oregon. I toured with my partner and professional videographer Pauline Schneider. We spent about two weeks in Alaska before proceeding to California and then to Oregon. The tour was marginally successful. We interacted with hundreds of people directly, and interviews and videos will undoubtedly reach several thousand additional individuals.
My latest tour was well-funded with donations from about 30 individuals. As a result, the speaking tour cost me slightly more than $6,000 in fiat currency, which is typical for my speaking tours not arranged by Crawford's Attractions. It also cost me nearly five weeks on the road, hundreds of hours to prepare presentations, plenty of sleep, and a plethora of animus sent my way. For example, trolls on YouTube clips illegally recorded at my presentations claim I'm a pro-nuclear, highly paid member of the U.S. government.
On the positive side, I met several friends, some for the first time. I remain grateful for these friends, including the ones who have offered financial support, sleeping accommodations, meals, and means of transportation. I especially appreciated the four-legged friends who greeted me in a few homes.
Our two weeks in Alaska began in Fairbanks and finished in Juneau. Links to public presentations and a radio interview in Alaska are embedded here, along with a few pictures of the tour. Huge thanks to Cachet Garrett for organizing every aspect of my visit to Alaska, and for hosting in Fairbanks. Thanks, too, to Colin Peacock for hosting and making arrangements in Juneau. Cachet and Colin served as guests for the 7 May 2019 edition of Nature Bats Last on the Progressive Radio Network.
We proceeded from Alaska to California, and then Oregon. Some of the public presentations, interviews, and a few pictures from the portion of the tour that transpired in the continental United States are linked and listed below. Additional presentations will be posted in this space as video is edited and uploaded.
12 April 2019 interview with Robert Jones and Patrick Newman for KZFR radio in Chico, California

16 April 2019 audio interview with Dennis Bernstein from KPFA Berkeley, not released because I met Mr. Bernstein's attempts at character assassination with evidence

17 April 2019 audio interview with Sue Hilderbrand from KZFR Chico, not released apparently because Ms. Hilderbrand did not appreciate the evidence I presented

18 April 2019 casual conversation with Dr. Wieslaw Maslowski, published 8 May 2019

19 April 2019 audio interview with Jesse Kearns for KZFR radio in Chico, California. The show was broadcast later that day, and poor sound quality precludes sharing it here.

23 April 2019 interview with Radio Ecotopia on KZFR radio in Chico, California

22 April 2019 interview with Peter B. Collins for the community television station in Marin County, California. Show aired 29 April 2019.

22 April 2019 interview with Guy Meyers for the community television station in Marin County, California. Show aired 1 May 2019.

3 May 2019 video interview with Thom Hartmann on his television program in Portland, Oregon
3 May 2019 presentation in Portland, Oregon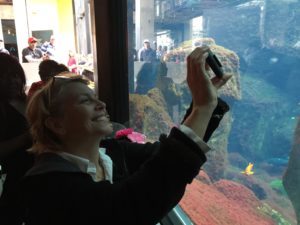 I was betrayed, as I've come to expect. After all, betrayal is the most common response to my work (defamation is a close second). In this case, I sent an organizer $1,500 for expenses. He cut corners to insure there were essentially no expenses. Then he dipped into the donation baskets, obviously intended for me. Donations are designed to partially pay for these tours. I lost more than $6,000 on this tour. The organizer is doing fine.
I greatly appreciate the offer from Miles Montalbano to host a presentation in Chico's Pageant Theater on 28 April 2019 as well as a book-reading and -signing event the following day at Blackbird Books. The organizer changed the location of both events, without consulting me, to a spiritual center poorly suited to my evidence-based message.
This three-state speaking tour is probably my last. I can no longer afford the financial cost of partially funding my own tours. In addition, my attempts to inform the masses clearly have failed. These efforts have been costly in many ways. The purposely dumbed-downed, willfully ignorant mass of humanity is more impressed with celebrities than with evidence. There are obvious exceptions, for which I remain grateful.
It is time for me to stop making sacrifices on behalf of an unappreciative public. Against my own best wishes, it is time for me to pursue the life I have long recommended for others. My detractors, including most of the people involved with Extinction Rebellion, surely will take note with glee. So, too, will so-called climate scientists who gain fame and money with their ongoing lies via exclusion of self-reinforcing feedback loops and omission of the aerosol masking effect.
Despite the costs, I remain available to anybody interested in supporting my work and my message. However, my financial situation requires full funding of any subsequent speaking tours.
Recently published: McPherson, Guy R. 2019. Only Love Remains: Dancing at the Edge of Extinction. Woodthrush Productions, New York.
McPherson, Guy R. 2019. Revised Second Edition of Walking Away from Empire: A Personal Journey. Woodthrush Productions, New York.
McPherson, Guy R. 2019. Revised Second edition of Going Dark. Woodthrush Productions, New York.
Pauline Panagiotou Schneider and Guy R. McPherson. 2018. Revised Second Edition of Ms. Ladybug and Mr. Honeybee: A Love Story at the End of Time. Woodthrush Productions, New York.
Mugs, tote bags, iPhone cases, tee shirts, and other pragmatic goods affiliated with the latter book are available here. I do not earn money from these items. Indeed, they have returned far less money than it cost to create and distribute them. I list them at the bottom of posts in this space in support of my artistically inclined partner, who created them.