Be impeccable with your word. Speak with integrity. Say only what you mean. Avoid using the word to speak against yourself or to gossip about others. Use the power of your word in the direction of truth and love.
~ Don Miguel Ruiz
I recently received the following information via email:
I'd like to request your authorisation to translate/publish your material … on your website. I also would like to compile some extracts of your videoconferences & conferences and translate that into french. And publish a 1h/2h long video with your best stuff.
I responded affirmatively, and I will do the same for others who ask. Please remember to ask.
I own the copyright on materials that appear in this space. I make no money from my essays or video posted here. I expect the same for anybody using these materials.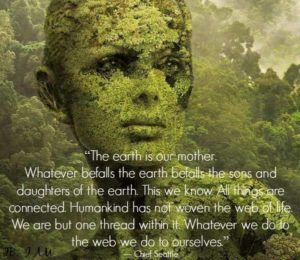 Published in February, 2019: McPherson, Guy R. 2019. Only Love Remains: Dancing at the Edge of Extinction. Woodthrush Productions, New York.
McPherson, Guy R. 2019. Revised Second Edition of Going Dark. Woodthrush Productions, New York.
Pauline Panagiotou Schneider and Guy R. McPherson. 2018. Revised Second Edition of Ms. Ladybug and Mr. Honeybee: A Love Story at the End of Time. Woodthrush Productions, New York.
Mugs, tote bags, iPhone cases, tee shirts, and other pragmatic goods affiliated with the latter book are available here (and also on Redbubble). I do not earn money from these items. Indeed, they have returned far less money than it cost to create and distribute them. I list them at the bottom of posts in this space in support of my artistically inclined partner, who created them.