We'll know our disinformation program is complete when everything the American public believes is false
~ Former CIA Director William Casey
American comedian George Carlin first spoke about seven words that are taboo on television in 1972 with his monologue, "Seven Words You Can Never Say on Television." The words for which Carlin became famous seem relatively mundane nearly 50 years later: shit, piss, fuck, cunt, cocksucker, motherfucker, and tits. In this essay, I describe seven phrases that are taboo on television, albeit for different reasons than Carlin's seven words.
Fiat currency
Money is frequently mentioned in the corporate media. The source of money is mentioned far less commonly. Currency has value because we claim it has value. We agree on the value of various pieces of paper, formerly backed by gold, now backed by confidence. As I have been pointing out for more than a decade, this is not necessarily a great way to insure the continuation of the industrial economy upon which we all depend (e.g., see the peer-reviewed paper linked here).
Aerosol masking effect
The aerosol masking effect has been described since at least 1929 in the peer-reviewed literature. As little as a 20% reduction in industrial activity is sufficient to warm the planet 1 C within a few days or weeks, based on my interpretation of recent, peer-reviewed literature. In short, "to hope is to believe in a favourable future. Hope is based on faith. Faith requires no evidence. Indeed, evidence generally interferes with faith: witness the spiritually religious."
I have been studying climate change since the early 1980s, yet I originally learned about the long history of scholarly work on this important topic in June, 2019. The aerosol masking effect has seldom been discussed, perhaps to maintain privilege, as I discussed in a peer-reviewed article: "'Keep it in the ground' is a rallying cry for activists, but admitting to the majority of the population that the situation is irreversible, doubtless would discourage people from leaving the fossil fuels untouched and 'in the ground.' This is one of the means by which the calories unconsumed by the ignorant masses are left to the informed, presumably wealthy individuals."
Self-reinforcing feedback loop
We do not know we have triggered a self-reinforcing feedback loop until it is already behind us. In this way, a self-reinforcing feedback loop is similar to a dog we run over with a car: Mistakes have been made. However, we know many self-reinforcing feedback loops have been triggered. Many have been reported in the peer-reviewed literature, yet few make "the news." I suspect this is for the same reason the aerosol masking effect has received little attention: retention of privilege for a few, at the expense of information transmitted to the many.
Hope is a mistake and a lie
What more can I say? What more can I write? I wrote about this topic in this space in January, 2019. A revised version of the essay became part of a peer-reviewed paper. Hope is a terrible idea to which most people have fallen prey.
Human population overshoot
Anybody paying attention knows there are too many people on Earth. Anybody paying attention knows that the overpopulation of humans is the root of many of our problems and predicaments. Yet, as Voltaire pointed out, "common sense is not so common." Will Rogers put his inimitable spin on the idea of common sense a couple hundred years after Voltaire: "Common sense ain't common."
Near-term human extinction
You will occasionally find an article in the corporate media about the most important topic in human history. More often than not, the article will disparage the idea. Occasionally, the article will libel me. You will rarely find the topic treated seriously.
Privileges exist, based on demography
Being white is better, as mentioned by American comedian Louis CK (see video clip immediately below). CK correctly points out that white people are not better than people of color. Rather, he is explicitly acknowledging white privilege (as well as male privilege). This recorded performance, which dates to more than a decade ago, remains timely in light of the #BlackLivesMatter movement and the common nonsensical retort, "all lives matter."
The privileges do not stop with race and sex. Privileges accrue, in general, to Caucasian, male, heterosexual men of a certain age. These privileges come at the expense of every other demographic. Recognizing these privileges and to whom they accrue is an initial step along the path of destroying them. I doubt we have time to do so, except within our own, individual lives.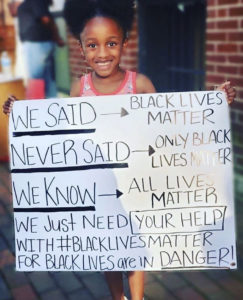 Special Notification:
The 57-acre homestead I occupied in western Belize has been re-listed for sale (click here for listing). My partner, who owns the property, must spend time with her family in Florida. She is selling the homestead at a monetary loss to be closer to her family.
Latest peer-reviewed journal articles:
McPherson, Guy R. 2020. Earth is in the Midst of Abrupt, Irreversible Climate Change. Journal of Earth and Environmental Sciences Research 2(2).
McPherson, Guy R. 2020. Will COVID-19 Trigger Extinction of All Life on Earth? (pdf). Earth & Environmental Science Research & Reviews 3(2)2:73-74.
McPherson, Guy R. 2019. Going Halfway: Climate Reports Ignore the Full Evidence, and Therapists Ignore Grief Recovery. Clinical Psychology Forum 321:28-31.
McPherson, Guy R. 2019. Becoming Hope-Free: Parallels Between Death of Individuals and Extinction of Homo sapiens. Clinical Psychology Forum 317:8-11. The full paper is linked here.
Published Recently:
McPherson, Guy R. 2019. Only Love Remains: Dancing at the Edge of Extinction. Woodthrush Productions, New York.
McPherson, Guy R. 2019. Revised Second edition of Going Dark. Woodthrush Productions, New York.
Pauline Panagiotou Schneider and Guy R. McPherson. 2018. Revised Second Edition of Ms. Ladybug and Mr. Honeybee: A Love Story at the End of Time. Woodthrush Productions, New York.
McPherson, Guy R. 2019. Revised Second edition of Walking Away from Empire: A Personal Journey. Woodthrush Productions, New York.
Mugs, tote bags, iPhone cases, tee shirts, and other pragmatic goods affiliated with NBL are available on Redbubble. I do not earn money from these items. Indeed, they have returned far less money than it cost to create and distribute them. I list them at the bottom of posts in this space in support of my artistically inclined partner, who created them.