Once again I ask myself a simple obvious question: Why not? Why suffer anymore? You've lived over half a century now, you've had your share — the love of a number of beautiful women, the friendship of enough good men, the test of blood, muscle, nerve and skill in some lovely, dangerous and very strange places. What do you want? Why not go for one last walk in the woods, never to return.
~ Edward Abbey
What would you do if you were already dead, had nothing to fear, nothing to lose, no one to impress? From now on, I will attempt to live as if I had nothing to fear, nothing to lose, and no one to impress. Why not? I've already greatly exceeded my expected expiration date.
Inspired by a forthcoming adventure, as well as the evidence underlying my work, I will attempt to temporarily disable all social media except YouTube, effective 13 July 2020. If I succeed in this endeavor, and the experience proves as enjoyable as I believe it will, then I will not re-enable my social-media accounts. If you must contact me after noon Eastern time on 13 July 2020, then I can be reached via email, as indicated beneath the About tab of this blog.
I will continue to post periodically at Nature Bats Last, including mention of videos in which I appear. You can subscribe to Nature Bats Last here, which means you will receive a notification via email when I post here. I will otherwise post generally only when I have a peer-reviewed paper published or when I announce or complete an interview (recent interviews are posted here). Along with cohost Kevin Hester, I will continue participating in Nature Bats Last Radio on the Progressive Radio Network the first Tuesday of each month at 3:00 p.m. Eastern time. However, I intend to greatly reduce the amount of time I spend online, as I indicated about a month ago.
I will continue to post videos on YouTube on the Nature Bats Last channel. You can subscribe to the channel here (click on the red SUBSCRIBE button), and you can become a member of the channel here. Membership includes benefits beyond subscription, at costs that vary with benefits.
As I have pointed out previously in this space, the typical responses to my evidence-based work include betrayal, derision, rejection, isolation, defamation, and plagiarism. Occasionally, though, I am merely mocked. Most people no longer need me to point out the ongoing loss of habitat for humans on Earth. I prefer silence to battling proverbial windmills and actual morons.
I owe a huge thanks to my supporters. However, I can offer only the time I have given and now my thanks. I have little else left to give.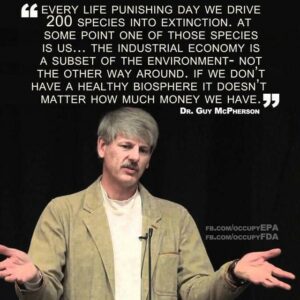 Special Notification:
The 57-acre homestead I occupied in western Belize has been re-listed for sale (click here for listing). My partner, who owns the property, must spend time with her family in Florida. She is selling the homestead at a monetary loss to be closer to her family.
Latest peer-reviewed journal articles:
McPherson, Guy R. 2020. The Myth of Sustainability (pdf). Earth & Environmental Science Research & Reviews 3(3):117-122.
McPherson, Guy R. 2020. Trees Cannot Sequester Enough Carbon to Slow Abrupt Climate Change. Modern Concepts & Developments in Agronomy (pdf) 6(4). DOI: 10.31031/MCDA.2020.06.000641
McPherson, Guy R. 2020. Earth is in the Midst of Abrupt, Irreversible Climate Change. Journal of Earth and Environmental Sciences Research 2(2).
McPherson, Guy R. 2020. Will COVID-19 Trigger Extinction of All Life on Earth? (pdf). Earth & Environmental Science Research & Reviews 3(2)2:73-74.
McPherson, Guy R. 2019. Going Halfway: Climate Reports Ignore the Full Evidence, and Therapists Ignore Grief Recovery. Clinical Psychology Forum 321:28-31.
McPherson, Guy R. 2019. Becoming Hope-Free: Parallels Between Death of Individuals and Extinction of Homo sapiens. Clinical Psychology Forum 317:8-11. The full paper is linked here.