The mark of a mature, psychologically healthy mind is indeed the ability to live with uncertainty and ambiguity, but only as much as there really is. Uncertainty is no virtue when the facts are clear, and ambiguity is mere obfuscation when more precise terms are applicable.
~ Julian Baggini
As pointed out in an article at The Conversation titled, "Why lockdown had little to no effect on global temperatures," implementation of various "lockdown" procedures "had a negligible effect on global temperatures." As a result, the presumed reduction in aerosol masking did not produce dire impacts this autumn. The paper in The Conversation links to a peer-reviewed paper published 13 October 2020 in Geophysical Research Letters. Unfortunately, the peer-reviewed paper cites neither the peer-reviewed papers in Science by Rosenfeld and colleagues nor the work by Levy and colleagues published in 2013, thus indicating a lack of awareness of these important papers.
The paper in The Conversation discusses aerosol masking, which is pleasantly surprising for such a source. It indicates that global carbon dioxide emissions fell by about 17% compared with the same period in 2019. However, it includes no mention of a reduction in industrial activity, further adding to my frustration regarding the absence of a clear link between emissions of greenhouse gases and industrial activity. I am certain there is a link between industrial activity and emissions of greenhouse gases, but I do not understand the nature of that link. For example, is it linear? Nonetheless, this paper makes clear that the reduction in industrial activity was insufficient to drive a global-average temperature rise 1 C. This is unexpectedly good news, and contrary to my statements during the last few months.
The information described in the preceding two paragraphs provides only a partial explanation for the retention of human habitat in light of the societal response to SARS-CoV-2. An additional important factor is the timing of the COVID-19 outbreak. The initial appearance of the virus, along with its third wave, coincided with a relative slowdown in biological activity in the northern hemisphere. The virus's debut in late autumn ensured minimal biological and ecological impacts. Ditto for the ongoing third wave.
Good news aside, the SOTT Earth Changes Summary for October 2020 includes extreme weather, planetary upheaval, and meteor fireballs in the headline. It points out that last month was the coldest October ever recorded for the United States. In addition, record-breaking snow fell from Montana to New Mexico and low temperatures broke records throughout the western and midwestern U.S. Natural disasters, crop failures, tropical storms, and various other indicators of abrupt climate change were reported by SOTT.
In short, it is a bit early to claim we are out of the proverbial woods with respect to near-term loss of habitat for Homo sapiens. However, perhaps the interview with Rosenfeld coincident with the release of the paper in Science overstated the case for aerosol masking. Rosenfeld might have overestimated masking during the interview, contrary to the ambiguity of the peer-reviewed paper. If so, then this, too, is good news.
There are still various means by which our species could soon go extinct, as I pointed out more than a year ago in this space. Dodging one bullet does not mean the Gatling gun will stop firing. However, it gives us the opportunity to express gratitude for another day.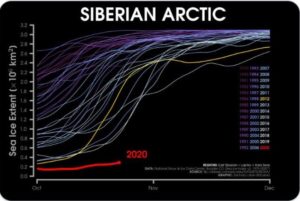 Latest peer-reviewed journal articles:
McPherson, Guy R. 2020. The Means by Which COVID-19 Could Cause Extinction of All Life on Earth (pdf). Environmental Analysis & Ecology Studies 7(2):711-713.
McPherson, Guy R. 2020. The Role of Conservation Biology in Understanding the Importance of Arctic Sea Ice (pdf). Earth & Environmental Science Research & Reviews 3(3):147-149.
McPherson, Guy R. 2020. The Myth of Sustainability (pdf). Earth & Environmental Science Research & Reviews 3(3):117-122.
McPherson, Guy R. 2020. Trees Cannot Sequester Enough Carbon to Slow Abrupt Climate Change. Modern Concepts & Developments in Agronomy (pdf) 6(4). DOI: 10.31031/MCDA.2020.06.000641
McPherson, Guy R. 2020. Earth is in the Midst of Abrupt, Irreversible Climate Change. Journal of Earth and Environmental Sciences Research 2(2).
McPherson, Guy R. 2020. Will COVID-19 Trigger Extinction of All Life on Earth? (pdf). Earth & Environmental Science Research & Reviews 3(2)2:73-74. doi.org/10.33140/EESRR.03.02.04
McPherson, Guy R. 2019. Going Halfway: Climate Reports Ignore the Full Evidence, and Therapists Ignore Grief Recovery. Clinical Psychology Forum 321:28-31.
McPherson, Guy R. 2019. Becoming Hope-Free: Parallels Between Death of Individuals and Extinction of Homo sapiens. Clinical Psychology Forum 317:8-11. The full paper is linked here.
Published Recently:
Another Voice Crying in the Wilderness: My Homage to Edward Abbey is available in three formats:
Signed, inscribed copy can be purchased here for $18 (includes postage and handling within the United States). These copies will be signed by the author and inscribed to whom you wish (e.g., "To Bill and Jane …").
McPherson, Guy R. 2019. Only Love Remains: Dancing at the Edge of Extinction. Woodthrush Productions, New York.
McPherson, Guy R. 2019. Revised Second edition of Going Dark. Woodthrush Productions, New York.
Pauline Panagiotou Schneider and Guy R. McPherson. 2018. Revised Second Edition of Ms. Ladybug and Mr. Honeybee: A Love Story at the End of Time. Woodthrush Productions, New York.
McPherson, Guy R. 2019. Revised Second edition of Walking Away from Empire: A Personal Journey. Woodthrush Productions, New York.
Mugs, tote bags, iPhone cases, tee shirts, and other pragmatic goods affiliated with NBL are available on Redbubble. I do not earn money from these items. Indeed, they have returned far less money than it cost to create and distribute them. I list them at the bottom of posts in this space in support of my artistically inclined partner, who created them.