The video embedded above resulted from a livestream event on Sunday, 25 April 2021. This, "Ask an Ecologist Anything" event lasted slightly more than an hour. We began by discussing information from the video embedded here, provided by my friend Trent Black. We proceeded to discuss the near-term loss of Arctic sea ice and its consequences.
Members of the Nature Bats Last YouTube channel can participate in future chat sessions associated with livestream videos. To join the channel as a Member, click here.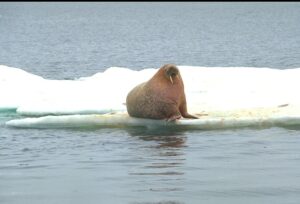 Latest Peer-Reviewed Journal Article:
McPherson, Guy. 2021. Rapid Loss of Habitat for Homo sapiens. Academia Letters Number 498, 1 April 2021.
Book Published Recently:
McPherson, Guy R. 2020. Academic Pursuits. Woodthrush Productions, New York.
Mugs, tote bags, iPhone cases, tee shirts, and other pragmatic goods affiliated with NBL are available on Redbubble. I do not earn money from these items. Indeed, they have returned far less money than it cost to create and distribute them. I list them at the bottom of posts in this space in support of my artistically inclined partner, who created them.