I posted today, for the second time, on the Nature Bats Last Rizzle account. Using my earlier work, I will be posting a video less than 60 seconds long from one to a few times each week. These videos will strive for brevity and humor, as I indicated in my first Rizzle video.
My second video on Rizzle was posted a few moments ago. I welcome your viewership of "The Bedhead Episode" and future videos. You are welcome to become a "Follower" on Rizzle to receive notifications regarding future videos. My future posts in this space pointing out my short videos at Rizzle will be restricted to a few words.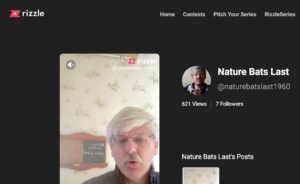 Latest peer-reviewed journal article:
McPherson, Guy. 2021. Rapid Loss of Habitat for Homo sapiens. Academia Letters Number 498, 1 April 2021.
Book Published Recently:
McPherson, Guy R. 2020. Academic Pursuits. Woodthrush Productions, New York.
Mugs, tote bags, iPhone cases, tee shirts, and other pragmatic goods affiliated with NBL are available on Redbubble. I do not earn money from these items. Indeed, they have returned far less money than it cost to create and distribute them. I list them at the bottom of posts in this space in support of my artistically inclined partner, who created them.