Except when I am presenting at a conference or symposium, nearly all events are free and open to the public. At some events, donations are accepted to cover my travel costs.
Sunday, 19 May 2013, 3:00 p.m., Center for Symbolic Studies, New Paltz, New York, Walking Away from Empire
Monday, 20 May 2013, 7:00 p.m., Mount Kisco Public Library, 100 East Main Street, Mount Kisco, New York, Living Sustainably (description here)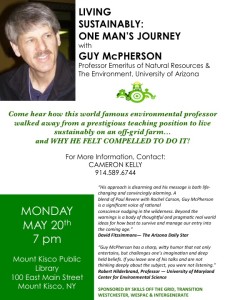 Tuesday, 21 May 2013, 7:00 p.m., Clinton Street Center, 1 Clinton Street, Pleasantville, New York, Dialog on Sustainable Living (description here)
23-27 May 2013, The Age of Limits: Conversations on the Collapse of the Global Industrial Model, south-central Pennsylvania. I'll present twice: (1) Forbidden Fruit: The Low-Hanging Fruit of Empire on Saturday at 6:00 p.m. and (2) Rapid, Unpredictable and Non-linear Responses on Sunday at 2:30 p.m.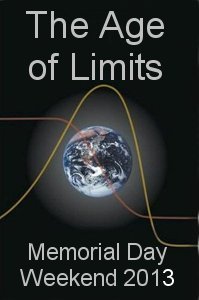 31 July 2013 through 4 August 2013, OHM2013, Geestmerambacht festival grounds, about 30 km north of Amsterdam, The Netherlands, title to be determined
20 June 2015, 11:00 a.m. – noon, Being World, Switzerland, Living with fire
_______________________
If you would like to book a presentation or solicit my participation in an event, please contact me at grm@ag.arizona.edu or guy.r.mcpherson@gmail.com. To read more about booking an event, see my Speaking and consulting page.