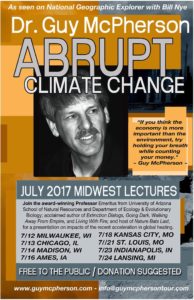 23 July 2017 1:00 PM
Southport Branch Public Library
2630 E Stop 11, Indianapolis, IN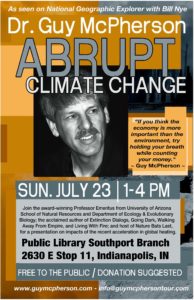 24 July 2017 6:30 PM
University Lutheran Church
1120 S Harrison Rd, E. Lansing, MI
~~~~~~
9 October 2017 Time TBD
Inaugural Schultz Awareness Lecture
Woodbury College, Los Angeles, California
~~~~~~
24 October 2017 8:00 a.m. – noon
Geological Society of America Annual Meeting
Seattle, Washington
Topical Session 75: "Planetary Climate Disruption Demands Urgent Global Policy Action"
Organized by George T. Stone, Jennifer L. Pierce
Panel includes Drs. Michael Mann, Lonnie Thompson, and Ben Horton
~~~~~~
2-16 November 2017: I'm tentatively scheduled to tour Ontario, Canada, with possible support from Sudbury, Hamilton, Montreal, and Ottawa. If you'd like to throw your hat into the ring, please send a message to booking@crawfordsattractions.com. To keep costs down, as part of this tour I am seeking hosts and venues in and near Burlington, Vermont.
~~~~~~
I'm tentatively scheduled to tour Australia in November and December of this year, with a presentation or two in Hong Kong on the return route. Confirmed locations include Brisbane, Byron Bay, and Mullumbimby.
We need hosts and venues Down Under for approximately the first two weeks of December, 2017. If you can provide a venue for the Sunshine Coast, Gold Coast, Melbourne, or Sydney, please send an email message to the Aussie host and organizer at mark@tlaholdings.com.au.
If you would like to book a presentation or solicit my participation in an event, please contact me at guy.r.mcpherson@gmail.com. To read more about booking an event, scroll to the bottom of my About page. Additional information is available here and also see the video clips below.