27 April 2017, East Bay Sierra Club Dinner, Berkeley, California
East Bay Dinner: Summer of Love, 2017

Date: Thursday, April 27, 2017
Time: 6:00 PM
Presented by: San Francisco Bay Chapter
Leader: Jane L Barrett, 510-845-8055
Location: Berkeley Yacht Club, Berkeley Marina, 1 Seawall Dr, Berkeley, CA 94710, USA

Thursday, April 27, no-host cocktails/social hour—6 pm, dinner—7:00, program—8:00, Berkeley Yacht Club on the Berkeley Marina, one block north of the west end of University Avenue (ample free park­ing is available in the Marina parking lots).

It is time. 50 years after the first Summer of Love, 1967, humanity is at a critical juncture: due to habitat destruction, conservation biologist Guy McPherson predicts humanity will go extinct within the next 10 years.

That's the bad news. The good news is that the bad news is bringing us together to save ourselves and our fragile world: Welcome to the Summer of Love, 2017: a planetary movement to bring out the best in humanity, toward a whole world.

Join us as Professor Guy McPherson and East Bay Dinners program chair Jamen Shively lead a conversation on the prospects for our survival, and for making our worldwhole again.

Dr. McPherson will begin with a peer-reviewed scientific analysis of the most current data, the findings of which are transforming the conversation on the future of life on earth. McPherson and Shively then roll out Summer of Love, 2017, from the "Summer of Love Boat" Tour de Amor around the Bay launching the next day from the Berkeley Marina, to the worldwide rollout and evolution of a radical form of collective intelligence and its potential to save our planet from apocalyptic destruction, and our species from extinction.

Guy McPherson is Professor Emeritus of conservation biology at the University of Arizona. His is the leading voice on the topic of abrupt climate change leading to near-term human extinction. He was under surveillance by the United States government no later than 1996, and had a spy in his classrooms no later than 2005. He has been labeled an anarchist and eco-terrorist by senior members of the Obama administration. He readily pleads guilty to the former.

East Bay native Jamen Whipple Shively is program chair for the East Bay Dinners and president of Radish.org, pioneer of radical collective intelligence. Like his (many Greats) Uncle William Whipple who signed the Declaration of Independence in 1776, Jamen is a pragmatic patriot and radical revolutionary promoting the adoption of a planetary Declaration of Interdependence.

Cost of dinner and program is $30, including tax and tip. $10 for program only, starting at 8 p.m. For a reservation, please send your check, payable to "Sierra Club," with your name, your telephone number, and the names of your guests, to:

Jane Barrett
170 Vicente Road
Berkeley, CA 94705
510 845-8055

Attendance is limited to the first 115 reservations received. Reserve early, as these programs do fill up. Reservation deadline is April 20.
30 April 2017, The New Living Expo, San Mateo, California, panel discussion
Sunday noon-1:30pm
New Living Expo,
San Mateo, CA
www.NewLivingExpo.com

This Panel discussion features Dr. Guy McPherson, Peter Russell, Sean Kelly, Jamen Shively and Moderator Peter Melton
Our Climate Crisis, Collective Consciousness and Global Transformation

Let us take a moment to remember our 14 billion year unfolding as life and consciousness. We will speed forward through time and then explore the human story that led to our modern era. Let us examine our path toward industrial civilization, over-consumption, overpopulation and the idea that we are separate from each other, separate from our choices and separate from our fragile planet.

We will take a stark, scientific look at our current climate crisis and our role in the sixth mass extinction of species. We will feel the physical and spiritual urgency! We will come together to co-create our collective intelligence and dare to call forth a new culture and a new story for humanity. Your wisdom is needed. Join us. Please.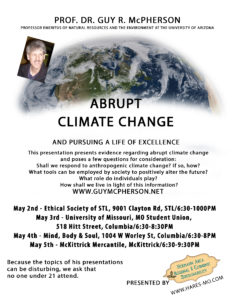 2 May 2017, Ethical Society of St. Louis, 9001 Clayton Road, St. Louis, Missouri, 6:30 p.m.
3 May 2017, Student Union, University of Missouri, 518 Hitt Street, Columbia, Missouri, 6:30 p.m.
4 May 2017, Mind, Body, and Soul, 1004 West Worley Street, Columbia, Missouri, 6:30 p.m.
6 May 2017, McKittrick Mercantile, McKittrick, Missouri, 6:30 p.m. (poster lists incorrect date)
4-8 August 2017, SHA2017 Hacker conference, Zeewolde, The Netherlands
2-16 November 2017: I'm tentatively scheduled to tour Ontario, Canada, with possible support from Sudbury, Hamilton, Montreal, and Ottawa. If you'd like to throw your hat into the ring, please send a message to booking@crawfordsattractions.com. To keep costs down, as part of this tour I am seeking hosts and venues in and near Burlington, Vermont.
We need Midwest U.S. support for June-July near Chicago, Ilinois, Indianapolis, Indiana, Cincinnati, Ohio, Louisville, Kentucky, St. Louis, Missouri, and Cedar Rapids, Iowa. Again, please send a message to booking@crawfordsattractions.com if you can help.
If you would like to book a presentation or solicit my participation in an event, please contact me at guy.r.mcpherson@gmail.com. To read more about booking an event, scroll to the bottom of my About page. Additional information is available here and also see the video clips below.