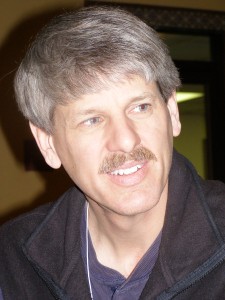 CONSERVATION BIOLOGIST, SOCIAL CRITIC, THOUGHT LEADER
Guy McPherson is an energetic speaker and talented moderator. He has appeared before countless audiences to speak about the two primary consequences of our fossil-fuel addiction: global climate change and energy decline. Because these phenomena impact every aspect of life on Earth, his talks reach a wide variety of audiences such as universities, associations, nonprofits, and numerous educational and scientific symposia and conferences. Selected presentations are available at McPherson's YouTube channel, but each presentation is uniquely prepared for the specific audience. If you are considering hosting Guy for an event or speaking tour, you will find useful information at this link, and a host's perspective in the wake of Guy's departure here.
Guy is professor emeritus of natural resources and the environment at the University of Arizona, where he taught and conducted research for twenty award-winning years. His scholarly work, which has for many years focused on conservation of biological diversity, has produced 11 books and more than 100 articles. He lives in an off-grid, straw-bale house where he puts into practice his lifelong interest in sustainable living via organic gardening, raising small animals for eggs and milk, and working with members of his rural community.
Guy developed a comprehensive set of durable living arrangements in response to the ongoing collapse of the industrial economy and global climate change. He shares property in a rural area developed specifically to provide abundant supplies of food and water as well as maintaining comfortable body temperature in the absence of fossil fuels. He is available for consultation if you are serious about doing the same.

CLIENTS
American Institute of Architecture Students
Association for Fire Ecology
U.S. Department of Defense
University of Arizona Vagina Warriors
La Posada Retirement Community
Osher Lifelong Learning Institute
Quivira Coalition
Sky Island Alliance
The Nature Conservancy
WHAT PEOPLE ARE SAYING
"Guy McPherson's work is a gift to the world. I wish all writers were as smart and as honest."
Derrick Jensen, activist and author
.
"Guy is hilarious."
Katie Goodman, acclaimed performer, musician, writer, actress, and speaker — Broad Comedy
.
"Guy McPherson is an entertaining and thoughtful speaker. I've heard him speak on a variety of topics from basic ecology to the links between science and management to the big stuff that really matters and he approaches each with well-researched preparation, captivating delivery, and passion."
Lori Hidinger, Managing Director — Consortium for Science, Policy and Outcomes
.
"Guy McPherson has a sharp, witty humor that not only entertains, but challenges one's imagination and deep held beliefs. If you leave one of his talks and are not thinking deeply about the subject, you were not listening."
Robert (Bob) H. Hilderbrand, Associate Professor — University of Maryland Center for Environmental Science
.
"His approach is disarming and his message is both life-changing and convincingly alarming. A blend of Paul Revere with Rachel Carson, Guy McPherson is a significant voice of rational conscience nudging in the wilderness. Fierce as Ed Abbey, and equally prophetic, Professor McPherson is a modern-day John Muir with a global perspective. Beyond the warnings is a body of thoughtful and pragmatic real world ideas for how best to survive and manage our entry into the coming age."
David Fitzsimmons, syndicated cartoonist — The Arizona Daily Star
.
"Guy McPherson is a fabulous speaker — earnest and honest, clever and funny, thought provoking and knowledgeable; one of my favorites."
Cindy Salo, President — Sage Ecosystem Science
BOOKING
Read more here, and contact Guy McPherson via email at grm@ag.arizona.edu or guy.r.mcpherson@gmail.com.